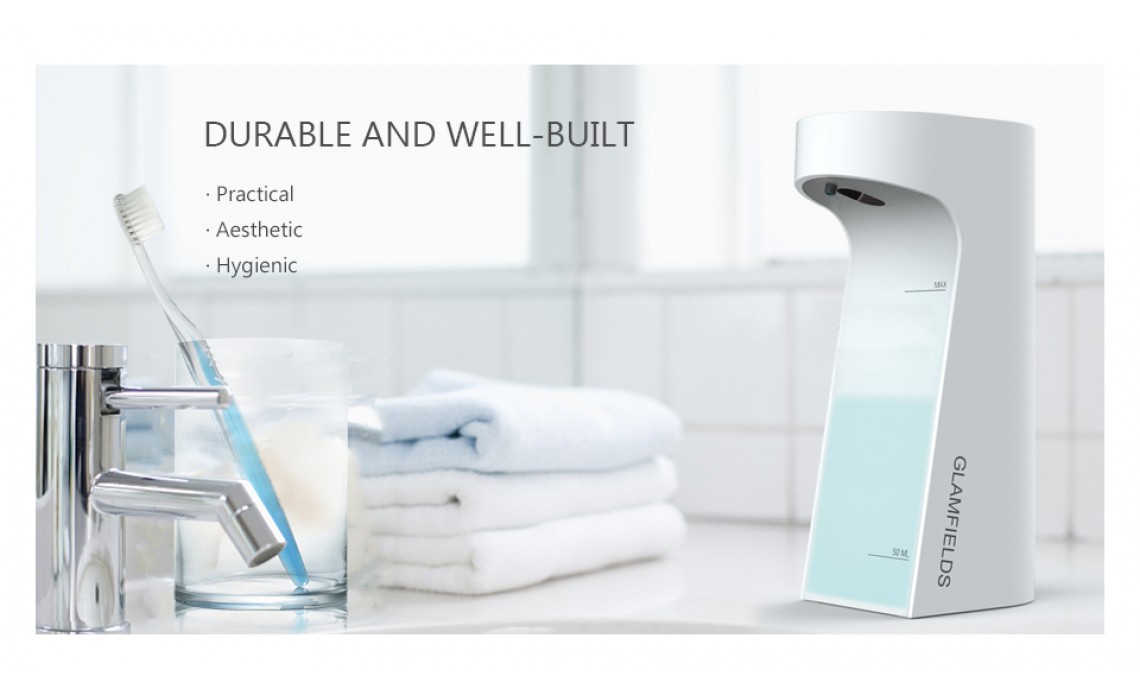 Q&A about Glamfields automatic soap dispenser
Posted By: Susi Neo Times Read: 14776 Comments: 0
I put soap in and the first couple of times the soap dispenser worked fine now the soap comes out in drops not like a stream as it shows in the commercial the liquid soap I used is thick that could be the problem so I'm going to try a different soap one that's a little thinner. Finally, it works great!
Glamfields touch-free soap dispenser has performed flawlessly. It dispenses an exact amount with each use and does not drip at all. I was concerned that an automatic dispenser might be more pain than it was worth but I haven't found this to be the case. It doesn't take up any more room than a standard pump bottle and once primed it measures out a perfect amount with each use. The sensor works great and it doesn't trigger when you stick your hand under it. It also never false triggers.
I like how the fill is right on top making it quick and easy to refill. It also has 2 volume settings for the amount of soap it dispenses. I found the lower setting is the perfect amount but you may need the higher setting if you use a more viscous soap.
Have you suffered such kind of problems while you using Glamfields automatic soap dispenser? Take it easy, when you can not dispense any liquid when the first time you use the soap dispenser. You should pump out the air inside the hose because of the hose inside the soap dispenser is relatively long, then it can drip normally.
Warm tips for using this soap dispenser:
Do not invert the soap dispenser up and down to avoid leakage.
Some frequent and normal customer complaints:
Q. Why Soap dispenser come with water in it.
A: Please be assured that the product you received is not used the product as our final test process before out of the factory is testing the sealing performance with pure water.
Q. Why there is very little soap dispense.
A1: it's perfect for hand soap, and may dispense little soap if the soap liquid is too thick. This generally can be solved after adding some water into the soap liquid and turn the dispensing capacity to high. (the capacity adjust button is on the back of the dispenser).
A2: Put your hand more horizontal and more near the soap outlet to let the sensor detect your hand and make it dispense better.
Q. Need to induction 3-4 or more times before dispensing soap.
A1: It may require multiple inductions when first use, because there may be left unvented air in the tube.
A2: Add water to dilute the soap liquid. (as 2-a)
A3: Maybe your hand was not detected. (as 2-b)
A3: The soap at the outlet is dried or solidified after a long time no use, you need to remove the dried or solidified soap before using.
Q. Low battery reminds the light on the top flash red.
A1: Check if you have set the batteries in the correct direction.
A2: This will also happen if there is any leakage of PCBA board.
A3: If this occurs after a time of use, you can try to change new batteries. (Do not mix new batteries with the old ones.)
Q: Do I have to turn it on every time I use it?
No need to turn off, however, it should be noted that when you move, do not put your hand in the sensing range of the soap dispenser, or turn off the movement, otherwise, it will come out.
Q: What are the most important things to look for when using it ?
A: Do not fill with high concentration liquid, and don't use the soap dispenser in the shower. Avoid strong sunlight exposure, avoid being put into water or immersed directly in water to prevent short circuit. Please turn off the dispenser when you move it to prevent the liquid soap from being squirted out.
What touchless soap dispenser can work for?
It's not hard to find the best automatic soap dispensers which harmoniously match your faucet. There are products which best-fit home kitchen and bath use, welcoming public institutions or restaurants and even hospitals. They clean your hands, remain clean and let you control the amount of soap, antibacterial agent, foam, or gel you will use.
Some automatic dispensers come with LCD displays which show the soap volume still available, together with the current volume level. Why would such a feature be useful? It's protected against moisture, so you shouldn't have trouble seeing what's inside the dispenser and how it works.
You usually cannot adjust the soap level prior to washing, as you need to touch the dispenser. Yet, you will find the option useful when you see that there's little soap left.
As a homemaking lover, I actually bought a second one. Tips: Make sure the batteries are flush in the compartment. For some reason, both units needed a bit extra push to get a battery lined up so the compartment lid would close. Use Non-diluted soap. We use dish soap. Adjust settings to get the shortest spurts of soap. I found that pushing the (+ -) button 4 presses seems to work best. When obtaining soap from this dispenser – place your cupped hand under the nozzle and the soap will dispense. KEEP your hand under the dispenser until the unit stops. Works perfect and no messy counters at all.
It never goes off on its own and dumps the soap in the sink. Some units on the market have various problem. Then there are times when someone actually wants to use it and can't get it to work at all. Even have tried putting it at different sinks, but it behaves the same no matter where to put it. However, you will find you are doing the right choice, this Glamfieds kitchen tool would never come out with the problem you are worried about. Anywhere there is a sink. And it's modern looking but, not crazy modern so it would fit in nicely in any decor. All that being said I feel as tho I should be a professional spokesman for this dispenser.
Link to https://glamfields.blog/2019/04/22/qa-about-glamfields-automatic-soap-dispenser/
Related products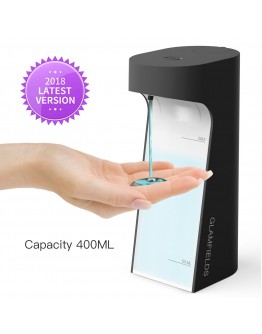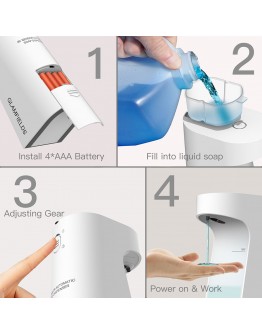 Sold out
Related Posts