Affiliate program
Glamfields affiliate program is free and enables members to earn revenue by placing a link or links on their web site which advertises Glamfields or specific products on it. Any sales made to customers who have clicked on those links will earn the affiliate commission. The standard commission rate is currently 10%.

How to be a Glamfields affiliate?
How to create an affiliate link?
When you finish registration then login and go to the right bar, and you will see Affiliate tracking as below. The default tracking code is your exclusive code, so no need to change it. Type the keyword like "hairbrush", "soap dispenser", etc, and you will see the product you want to promote in the drop-down box of Tracking link generator, select and it will show in the "Tracking link", copy and use it in your share (video description, post info, and etc)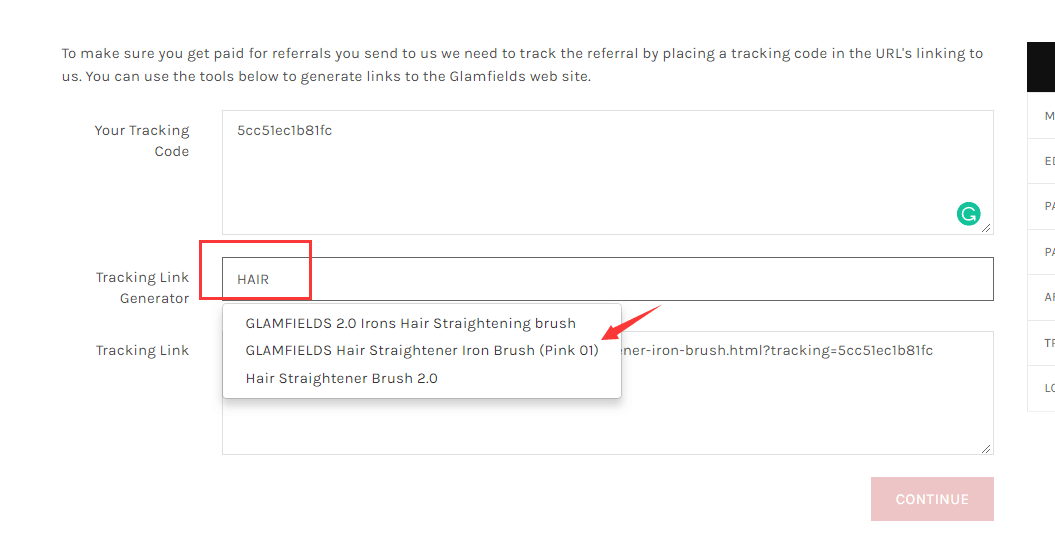 We pay when the commission reaches $50 via Paypal(Cover Paypal fee) or Bank transfer, and we will work one more payment methods.
Achieve a win-win situation with your customers by joining our Affiliate Program!
We, the professional home and beauty company, are looking forward to sharing our resources with you. Earn commission on all referred sales just by referring customers to Glamfields.com.
Currently, we have website affiliate programs, but we are working on more Partner Affiliate Platforms. Let's be a part of the team now!
What you can promote? Currently, all units list on our website is available to promote and earn a commission.
YOUR BENEFITS
10%% commission on each referred sale.
Extra monthly Cash Bonus by sharing promotions.
New monthly profitable activities, updating coupons.
Newsletters when new activity and promotions update.
30-day cookie duration.
For more information, visit our FAQ page or see our Affiliate terms & conditions or contact [email protected].