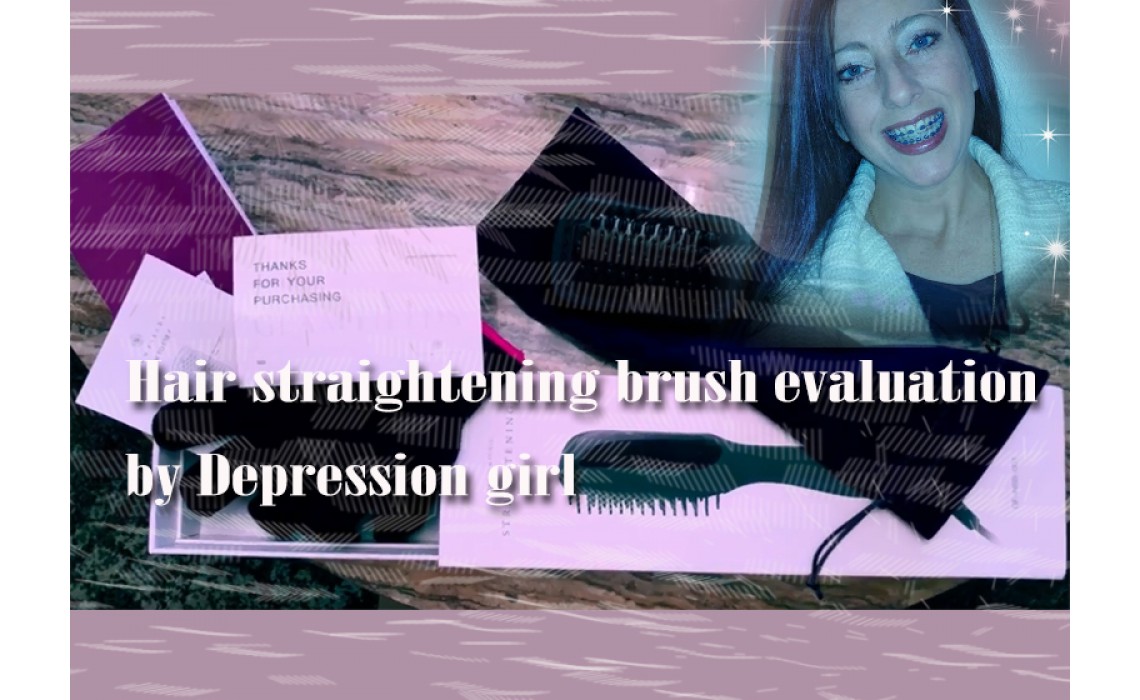 Hair straightening brush evaluation by Depression girl
Posted By: Neo Times Read: 434 Comments: 0
A Hair straightening brush evaluation review video from a girl who is suffering Depression had Glamfields to pay attention to people suffering from Depression. Depression is becoming an invisible and huge stealth killer. The 2017 data shows that there are about 350 million people with depression worldwide, and it has become the world's fourth-largest disease. The World Health Organization predicts that by 2020, it will become the second largest disease burden after human heart disease.
However, the actual attendance rate of patients with depression is no more than 1/3. Even if cured, the recurrence rate is as high as 75% to 80%.
Here we are sharing a girl who reviews a Ceramic & Ionic Straightening Brush is suffering Depression. This girl is very cheerful, I knew she when the first time she DMed me on Instagram, I didn't know we can become familiar after that, having known she works a lot every day in a week.
Here's she used to tell me a few months ago: "I have a thyroid gland but it was killed 18 years ago with radioactive iodine and I have been on a medicine that regulates those hormones because the thyroid hormones do a lot for our body. But somehow I have had 3 different physical issues happen and also when those hormones aren't within normal levels it affects you mentally also. Depression, anger, cry, sad, lethargic, anxious, cry again, very tired, along with about 10 other symptoms that are too personal and I really have just been working Through my full-time job and I have been sleeping a lot. I have slept through most of Christmas and new years. I have about 3 more weeks to get through this and if this doesn't help I might need surgery. I am also having some other physical reactions because my thyroid hormones are not in normal range so I'm just a mess. Anything that can also go wrong in, life with my car, work and a few other things have gone wrong also. I'm just ready to give up. "
I never know how hard she is suffering now, at that time, I didn't know how to cheer she up, the only thing I can do is encouraged and support her, ask her do not give up, just stick to it, everything will be fine. You know there are millions of people suffer Depression, how helpless they are, and if we all ignore this situation, something will be worse.
Luckily, she feels better after treating, yet, god always kidding, her mom passed away a few weeks ago, I cannot imagine her feeling but I know this is the hardest thing she's ever had to endure in her life. I should say she's really strong and never give it up, you know you need to help someone when he or she fall in deep. Do not leave them, a simple greeting, always supporting, letting he/her know there is someone always concern about them, then everything will be better!
She is doing something outstanding job, below is her YouTube channel!!! Checking out her latest update "Hair straightening brush review + natural curl presentation!", thanks, Donnelle Griffin's share! Let's check out her video and see this amazing girl! Glamfields is seeking many people who are doing amazing work in their life, if you don't know how to carry on, go head here.
Link to https://glamfields.blog/2019/04/04/hair-straightening-brush-evaluation-by-depression-girl/
Related products
Related Posts