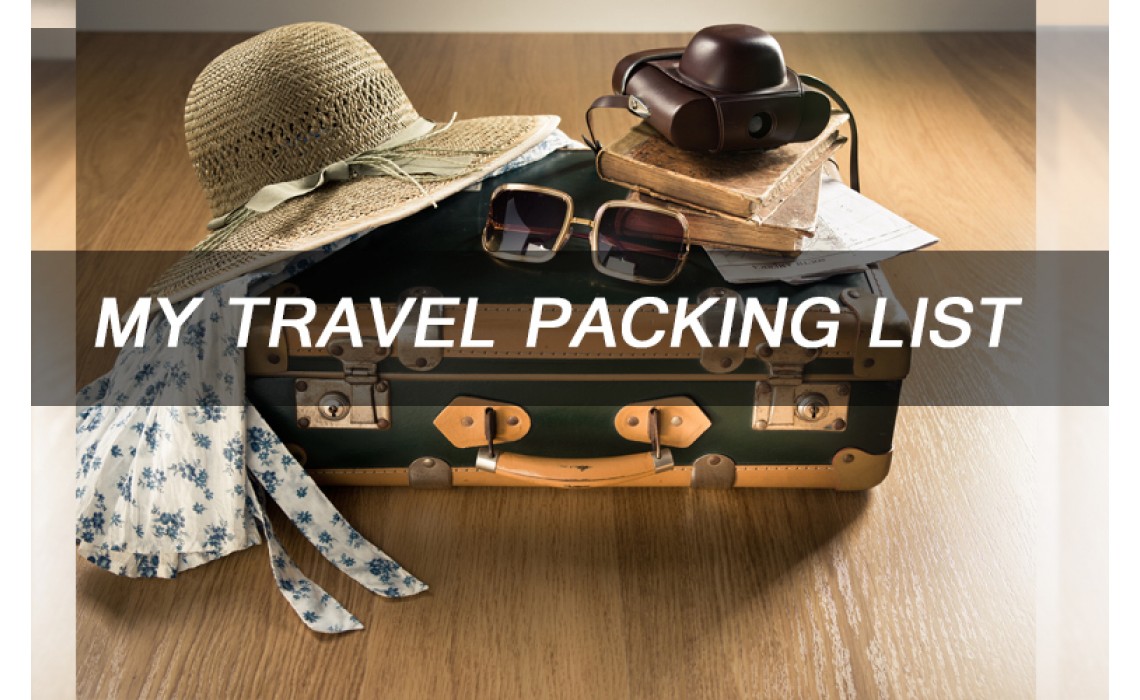 What should we pack to travel ? 5 Steps
Posted By: Silvia Weng Times Read: 1694 Comments: 0
Travel is the movement of people between distant geographical locations, which can be empty your mind, get more joyful and enthusiasm to life. So what should we pack to enjoy travel? The right way to take your luggage with these 5 steps below:

Step 1: Choose Your Main Luggage
Wherever you're planning to go, pick luggage that is versatile, lightweight and big enough to hold all your essentials. The most important decision you'll make is (as far as luggage is concerned) is buying a bag that has an awesome warranty. Travelling with a piece of luggage with broken wheel, handle or zipper is the absolute worst! Brands that back their gear with stand-up warranties build that promised durability into their gear. It's also important to find a travel bag that's as versatile as you need it to be, while also fitting all your stuff and being easy to carry.
Step 2: Start with this clothing packing list:
The Basics
Lightweight clothing that can be layered
Belt – Check out this one for an ingenuitive money protection option
Socks – wool socks are best for hiking
Comfortable walking shoes
Rain jacket, windbreaker or umbrella
Pyjamas/sleepwear
Underwear
Sunglasses and glasses case
Swimsuit or swim trunks – consider a wet/dry organizer
Travel pillow, eye mask and ear plugs
Electric converters and adapters
Pack Your Toiletry Bag
If you're carrying on, keep your toiletry bag light and TSA-compliant. The TSA's 3-1-1 rule makes it easy to remember: liquids, gels, aerosols, creams, and pastes must be 3.4 ounces (100ml) or less per container and they must be in a 1 quart-sized, clear, plastic, zip-top bag. To make this as easy as possible for you, we have a set that includes four 3-ounce silicone bottles in a quart-sized clear pouch that's wipeable and has a water-resistant zipper.
Don't forget the following travel essentials for your toiletry case:
The Toiletry Bag Basics
Toothbrush, toothpaste, floss, mouthwash
Hairbrush or comb, hair ties, barrettes/bobby pins
Shampoo and conditioner
Sunscreen and face lotion with SPF
Make up packed
Face wash and/or makeup remover wipes and q-tips
Night time Moisturizer/Lotion
Lip balm with SPF and lipstick or lip gloss
Hand sanitizer or wet wipes
Step 3:
Travel Health
As soon as you decide to travel internationally, check the Center for Disease Control and Prevention's website for comprehensive travel vaccines, medicines, and travel advisory information. Whether you decide to get vaccinated or not is your decision, but many vaccinations require administration 2 months before travel begins. So get informed!
First aid kit (bandages, gauze, adhesives, etc.)
Personal prescriptions (copies of scripts)
Pain and fever relievers (also children's strength if you are travelling with kids)
Thermometer
Cold medicines and throat lozenges
Diarrhoea/laxative medicines
Allergy medicines
Hydrocortisone cream/antibacterial ointment
Multivitamins
Sunburn relief
Insect repellent/mosquito net/sting reliever
Motion sickness pills or bands
Altitude sickness pills (if you are planning to hike in higher altitudes)
Eye drops
Moleskin
Medicines and vaccinations specific to the region/activity
Step 4: Prepare Your Personal Item

Carry-On

Bag

The next thing you'll want to do is prepare your personal item carry-on bag with anything you'll want with you on the flight. It's always a good idea to make sure you have an outfit (or two) and a few essential toiletries in your personal item just in case your luggage is lost. If you'll be travelling around to multiple destinations, make sure this bag has items to keep you cozy on any train, boat or bus rides. It's always nice to have a bag that's easy to access so you don't have to get into your luggage each time you need your eye mask. But remember, you'll be carrying all of this, so keep it light.

We recommend you consider using a small daypack or backpack as your personal carry-on item. Here are some good things to include in your carry-on bag packing list:
Technology
Mobile device and charger
Laptop, iPad, or E-reader and charger(s)
Headphones(consider noise-reducing headphones if you're sensitive to sound)
Camera and Go Pro/video camera, memory card, and chargers
Electrical converters and adapters
Travel Comfort, Entertainment, and Information
Travel pillow, blanket, eye mask, and ear plugs
Travel journal and pen (it's awful when you forget your pen!)
Books and magazines
Deck of cards and travel games
Chapstick and lotion – it's dry up there
Water bottle – you'll need to fill it up once you get through TSA
Guide books, travel guides, maps, language guides, etc. (if you will need any of these upon arrival at your destination, put it in your carry-on)
Step 5: Collect Important Travel Documents, Cash, and Credit Cards
Start by collecting all of your important documents in a travel document organizer. (This travel organizer holds a passport, ID, credit cards, coins, documents, a boarding pass, and a pen!) By bringing all your important information together, this will help ensure you have everything you need to get from one place to the next. Not sure what you need? Here's your international travel checklist, document-wise:
Passport/visa(s)
Personal ID/Student ID card – If you're a student, some companies, like Sta Travel, offer discount cards to ensure you get good deals while on the road
Frequent flyer card(s) and other loyalty program card numbers (ex: hotel chains and AAA)
Cash and credit card(s) – Call your credit card companies before you travel to inform them of your travel (otherwise they might turn them off to prevent perceived fraud)
Health insurance cards/document(s)
Travel insurance information
Reservations and itineraries – print them and save them electronically for easy access
Hotel and/or tour contact information
Transportation tickets (plane, train, bus, car, etc.)
Emergency contacts and important addresses
Copies of all these things in case you lose your wallet
Guide books and maps
As soon as you book a trip, it's a good idea to double-check that your passports and IDs aren't expired, and that they will not expire while you are travelling internationally. You'll also want to inform your bank if you're travelling abroad so they don't assume fraudulent activity and freeze your credit card. Also consider emailing yourself a copy of your passport, driver's license, medical cards and itinerary, so if anything happens to them you'll be able to access them online.
After these 5 steps, just ready your time and enjoy your trip.
Related products
Related Posts