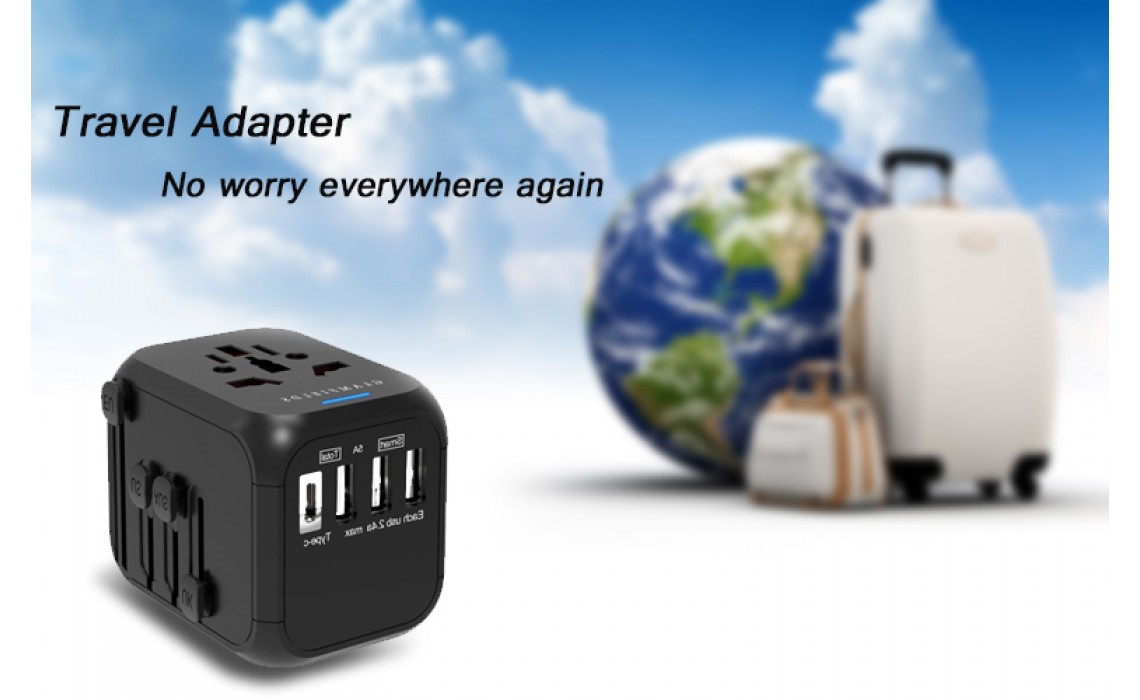 How does universal travel adapter converter work?
Posted By: Silvia Weng Times Read: 15887 Comments: 0
When going business trip or travel around the world, you may complaint why always difficult to find the right socket…Today we highly recommend you a very helpful tool —travel adapter, and no worry again when a business trip or travel come.
How does travel adapter work?
STEP 1
Check the electrical system and plug type for the country where you will be traveling. Consult a reference that lists electrical specifications for countries, such as Kropla World Electric Guide (see Resource below) or a table included in a travel adapter kit. For example, the electrical system in Argentina provides 220 volts.
STEP 2
Purchase a travel adapter to fit the electrical outlet for the country based on the type of plug or socket used. Plug adapters bear a letter corresponding to the plug configuration. Single adapters are available for select countries, such as a C adapter for power outlets in Argentina, Albania, Brazil, Italy and Sweden or a G adapter for the United Kingdom.
STEP 3
Identify the power requirements for the device by checking the label on the back of the device or information on the power transformer for the voltage and amperage to determine whether a converter is needed. Alternatively, consult the owner's manual for electrical or power requirements. Appliances such as a hair dryer or devices such as a cell phone may specify a dual-voltage rating for 110 volts and 220 volts, so that they don't require a power converter in many countries — only a plug adapter for the outlet. If the device doesn't specify a dual-voltage rating, it is a single-voltage appliance.
STEP 4
Calculate the wattage for the device if it's not specified by multiplying the voltage (V) and the amperage (A or amps). For example, 110 V x 2 A = 220 watts. Wattage is the amount of electricity needed by a device for power or for charging. If a small device requires a small wattage and doesn't have a transformer, it may be damaged or "fried" by a country's electrical system because a transformer or converter isn't used to prevent a power surge.
STEP 5
Purchase a converter, converter/transformer or converter/transformer with adapter as needed based on determinations from Steps 2 to 4. Mobility International USA (MIUSA) recommends using a converter that is rated at least 50 percent higher than needed. For example, use a 350-watt converter or higher for a 220-watt device.
STEP 6
Attach the power cord to the device when you arrive at your destination. If you also use a power converter/transformer, then plug the device's power cord into the power socket on the converter.
STEP 7
Match the prongs of the power plug for the device or converter to the slots on the adapter and then insert the plug adapter into the wall outlet. Prevent a power surge or sparks by checking that the cord and adapter fit tightly together before plugging it into a working power supply.
Best 5 universal travel adapter we picked
#1 Universal Travel Adapter, GLAMFIELDS International Power Adapter, Worldwide All in One AC Outlet Power Plug Adapter with 3 USB + 1 Type C Charging Ports for USA UK AUS European 200 Countries
Amazon Reference Price: $21.99
【Universal International Travel Adapter】 This GLAMFIELDS all-in-one universal travel adapter integrates 4 retractable plugs (US, EU, UK, AU) and USB ports, which are available in 200+ countries, including USA, UK, Europe, Australia, Hong Kong, Japan, South Korea, Singapore, China, etc. Designs with wide voltage: 100V-250V AC. Max Power: 1500W (250V/6A). It's an excellent Travel Companion. Note: This international travel adapter does NOT convert voltages.
【New Upgraded Auto-resetting Fuse】Newest built-in auto-resetting fuse to protect against overload or short circuit. The fuse will disconnect automatically at high current, and will connect again when the power back to normal. Permanent fuse, no need to change it for the lifetime, to protect the device intelligently, also to avoid fire.
【3USB + TYP-C, Smart Chip for Intelligent Distribution】3 USB + 1 TYP-C, Max.2.4A on each USB port and 3A on Type-C, supports simultaneous charging of multiple devices such as cell phones and tablet PCs. Smart Chip for identification, the automatic indication of current and voltage ensures safe and effective fast charging. This chip is also designed with energy saving, intelligent distribution, lightning protection, overload protection, overcharge protection, overheat protection, etc.
【One-handed Operation + Built-in Safety Shutters】Ergonomic design suitable for one-handed operation, Our universal adapter fits into the modern trend, while the traditional sockets are operated with two hands. There are built-in safety shutters inside the jack field, protect users from direct touch of live parts to avoid electric shock. Conductive only when two holes are plugged in simultaneously. Add Effective protection for children.
【Certificates and Lifetime Warranty】This international power adapter is made of heat-resistant PC + ABS engineering plastics. Will not deform at 125 ℃. High flame retardancy, glowing thread will not burn at 750 ℃. After 10,000 times plugging and undressing, it is also usable. FCC, CE and RoHS certified you can buy with confidence. If you have any issue or question with this GLAMFIELDS worldwide plug adapter, please don't hesitate to reach out to us.
#2 Ceptics World Travel USB Type C QC 3.0 Power Plug Adapter – 3 USB Ports Wall Charger Type I C G A Outlets 110V 220V A/C – 5V D/C – EU Euro US UK – European Adaptor Kit
Amazon Reference Price: $22.99
[NO. 1 TRAVEL ADAPTER BRAND] Equipped with 1 Universal Input, 2 USB (2.4A) & 1x Type C USB – Perfect for Travel – Use with Cell Phones, iPhones, Tablets, iPads, Laptops & other devices anywhere in the world – Few exceptions listed below
[CHARGE 4 DEVICES AT ONCE]:1 Universal Input, 1 USB-C PD port and 2 standard USB ports allow simultaneous multi-device charging at high speed. [ZEN + Port] can output 2.4A(Max) and automatically matches the maximum charging current of the connected devices.
[TYPE A, I, C, G OUTPUT] Type A can be used for Japan, United States, Canada, Mexico. Type I International Travel Power Adapter for China, Australia, New Zealand/Type C European adapter plugs for Europe, South America, Asia. Type G Universal Power Adapter for United Kingdom, Ireland, Singapore, Hong Kong
[SAFETY CERTIFIED] – Built with an 8A Fuse, Extra Included. FCC CE ROHS certified safety system, surge protection, children's electric shock protection, plug lock and built-in safety shutters to protect you and your devices from external shock and short circuit when charging
***IMPORTANT NOTE: This adapter is NOT a voltage converter. It will not convert voltage, make sure your item supports worldwide 100-240V for use in overseas such as Europe. It will not work with items such as 110V Hair Dryer, curling iron or straightener. Full Ceptics Support Contact us for any questions.
#3

Universal Travel Adapter, HAOZI

All-in-one International Power Adapter with 2.4A Dual USB, European Adapter Travel Power Adapter Wall Charger for UK, EU, AU, Asia Covers 150+Countries (Blue)

Amazon Reference Price: $15.98
Features: AC Power Rating: 6A max. 100-240Vac (660W max. at 110V, 1380W max. at 230V)
USB Power Rating: 2400mA 5Vdc
International Adapter: The Travel Adapter covers over 150 countries with US/EU/UK/AUS plugs and Powerful Dual USB Ports. It can be worked in Canada, Mexico, Brazil, Central America, South America, Europe, Asia, the Middle East and so on.
Certified and Safety: This travel adapter has FCC, CE and RoHS certified safety system with safety 6.3 Amp fuse ensures complete protection for you and your devices, Built-in safety shutters protect users from the direct touch of the live parts on the socket outlet.
Smart Dual USB Ports: This universal charger is compatible with almost all USB Devices like Apple iPhone 7/6S/5S/4S, Samsung Galaxy S7/S6/S5/S4, Sony, Nokia, HTC, LG, HUAWEI, ZTE, Bluetooth Speaker, Digital Cameras and so on.
Charge 3 Devices: Power Up faster without taking multiple chargers on vacation! Compact and Powerful World Adapter Plug allows SIMULTANEOUS use of the AC Power Socket and Dual USB Ports. Charge 3 Devices at the same time without any mess at all, very Easy to use.
Guaranteed: Best of all, by buying with us, you'll be working with a company that has a full LIFETIME GUARANTEE on every product that leaves our factory. Better still, we offer full customer support for all of your needs. Bottom line, it works, or your money back.
#4
BESTEK
Universal Travel Adapter 220V to 110V Voltage Converter with 6A 4-Port USB Charging and UK/AU/US/EU Worldwide Plug Adapter (White)
Amazon Reference Price: $36.99
BESTEK Converter for 110V Devices: Patented technology converts voltage in different countries including Australia (100-240V, 50/60Hz) to US/Japan voltage (110V, 60Hz), ideal for charging all kinds of devices
Charges 7 Devices Simultaneously: 4 USB charging ports with a combined 6A output, 3 AC sockets support Max 250W power
24-month Warranty & Safety Guaranteed: NRTL safety tested and upgraded hardware provides complete protection for you and your devices. Comes with over-current, over-load, over-heat and short-circuit protections. [*Note: USB outputs are completely isolated from the AC power to prevent all your devices from being damaged]
Worldwide Use: 1 EU power cable and 3 international adapters (US/UK/AU plug) support outlets in Australia, North America, United Kingdom, Continental Europe, Japan, China, more than 150 countries all over the world
Travel Design: Compact size (6x3x1.57 inches) with 5-foot detachable power cable makes this power converter easy to pack and take anywhere you go
#5

Travel Adapter, JOOMFEEN

Worldwide All in One Universal Power Wall Charger AC Power Plug Adapter with Dual USB Charging Ports for USA EU UK AUS Cell Phone Laptop (Black)

Amazon Reference Price: $12.99
WORLDWIDE CHARGING – This Travel Adapter Cover more than 150 Countries with US/EU/UK/AU plugs. It works in Canada, Russia, Asia, Central America, South America and the Middle East to name a few.
DUAL USB PORTS – World Adapter Plug compatible with almost all USB Devices like Apple iPhone 6 6s 5s 4s, Samsung galaxy s7 s7 edge s6 s6 edge s5 s4, Sony, Nokia, HTC, LG, and so on.
CHARGE 3 DEVICES – The World Adapter Plug allows SIMULTANEOUS use of the AC Power Socket and Dual USB Ports.
All IN ONE – Detachable charger includes 5 Different Input Plugs Tightly Connect into 1 Adaptor.
ADVANCED TECHNOLOGY – Built-in Fuse protects/ Built-in Safety Shutters / LED Power Indicator and a 12-Month Warranty. (Warm tip: The warranty and professional service just offer from JOOMFEEN, please go for the original edition. Fighting against counterfeit and shoddy products!)
FAQ:
1. What's the difference between adopters and converter? Can it convert 110v to 220v?
An adapter will allow you to plug into various wall outlet types around the world, as from what I've seen, no other country has the same type of plugs as the US. Converters – The standard voltage of an outlet around a US house is 110, except for the outlets where your washer/dryer, oven, and refrigerators are plugged into – those are the 220/240 voltages. In many other countries, the "standard" voltage is 220/240. Without a converter to reduce that voltage to 110, you would fry/burn out whatever you plug into it, unless your shaver or hair straightener, etc., is "dual voltage" meaning it can handle either 110 or 220 (but will still need an adapter to plug it into the outlet). That is why you usually need both.
2. Is it ok to plug in a power strip to this so that I can have multiple ports instead of just one?
I think it really depends on what you plan on plugging into the power strip. This was designed for small devices (phones, iPads, etc.). If you plug in any electronics that draw a moderate load you may trip the fuse. Note one of the photos has images of common household items that will overload this converter (hair dryers, e.g.).
3. Can I use a continuous running white noise machine that is powered by USB, for 7-9 hours during the night? will it overheat? or be a danger?
You can use it during the night. Plz don't worry. There is a fuse in it. And plz kindly note high power appliance can not work with the adapter.
4. Will it work with Air fryer with 2000watts/110-240V in Pairs?
It can not work for the Air fryer for the security reason. Thanks for the question.
5. Will This adapter work with hair dryers and flat irons?
No you need a transformer for all appliances. This is a converter not a transformer.
Using a travel adapter is for easy and convenient your life, particularly tourist, tour guide, businessman those people always fly around the world. So don't forget to get one before the next trip.
Related products
Related Posts