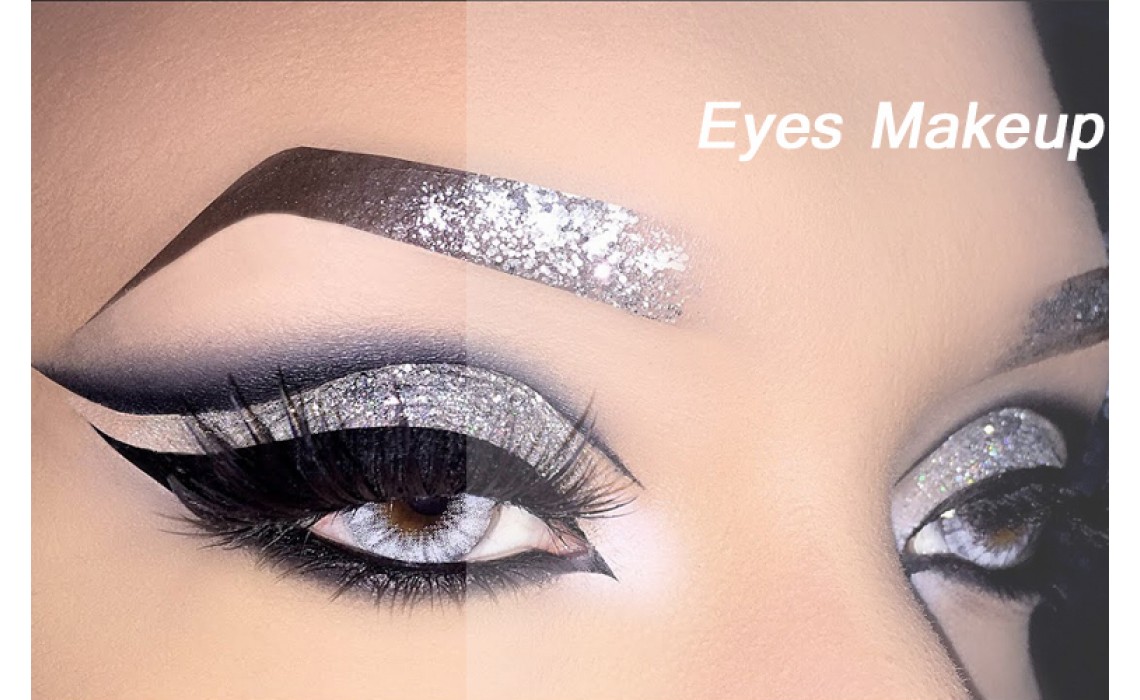 Eyes Makeup Tutorial – #2 Cosmetic
Posted By: Weng Times Read: 2503 Comments: 0
Eye shadow is a kind of make-up for makeup around the eyes. Eyeshadows are available in powder, stick, cream, lotion and pencil shapes. The primary role of eye shadow is to give the eye a three-dimensional, color tension. There are many types of eye makeup, and the main function is to enhance the contour and create a more three-dimensional makeup.
Eye shadow Categories ( Eye shadow is rich in color and variety. The commonly used eye shadow is divided into eye shadow powder and eye shadow paste.)
The eye shadow powder is a powdery block. The powder is fine and rich in color. It is divided into pearlescent eyeshadow and matte eye shadow. The pearlescent light eye shadow powder can also be used as a face brightening.
Creamy eyeshadows are made from grease, wax and pigment. The appearance and packaging of creamy eyeshadows are similar to lipsticks and are now popular eye cosmetics. Its color is not as rich as eye shadow powder, but it gives a feeling of luster and moisture after application.

FAQ:
#1 Choose a creamy eye shadow or a powdery eye shadow?
Creamy eyeshadow: Paste eye shadow has been popular in recent years, it can achieve a transparent oily, natural makeup, easy to carry, easy to apply. But the disadvantage is easy to remove makeup, suitable for moderate to dry skin.
Powder eye shadow: powder eye shadow is more common in the cosmetics market, it can make the makeup lasting, easy to color, relatively dry, suitable for medium to oily skin.
Matte texture is suitable for natural makeup, and women with puffy eyes are more suitable.
The delicate pearlescent texture is suitable for any skin, and the texture is smooth and easy to apply. The subtle pearls make the eyes look brighter.
#2 Does eye shadow hurt the eyes?
Eye shadows contain moisturizing ingredients so they don't dry out, and they go through a series of safety tests that generally don't cause damage to the eyes. If you use some kind of eye shadow to make the eye skin itchy and red, it may be sensitive to the pigment particles of the color. Generally, the darker eye shadow is more likely to occur.
What is my favorite eyes makeup? — CUT CREASE.
What is Cut Crease? Recall for a moment the last time you applied eyeshadow. Most likely, you would have dusted your favorite shade onto the lids of your eyes, extending the shadow just up to the point where the eyelid skin dips into a crease. The cut crease makeup technique defines that line, extending it slightly above the natural fold with a few clever tricks. As such, it shows off and widens your eyes by creating the illusion of added depth. Whether your eyes are small, large, slanted or hooded, a cut crease will open them up for a beautiful, doe-eyed look. Additionally, the extra space created on the lids will offer a more extensive canvas to show off your favorite eyeshadows.
What should we ready before making a cut crease?
Step1: Choose the right eye shadows
Step2: Choose the right eye brushes
6 Cut crease color + 4 Levels to do it
# 1 Glitter Cut Crease
Adding a little glitter to your eyeshadow while experimenting with a cut crease will ensure a stunning, evening look that will make your eyes pop. The trick when it comes to glitter is to apply it to the eyelids themselves. Doing so means keeping the eyeshadow above the crease glitter-free and well blended. For a seriously beautiful look, match the glitter color to that of the shadow above your crease. Just make sure to use a slightly darker version of the shade for the cut crease eyeshadow, as this will create depth and let the sparkles stand out. However, if you want to get experimental, you can also use a neutral shade of glitter, and a darker shade of shadow above to create a beautiful two-toned look. While metallic glittery lids are an instant winner on anyone, the shimmer will be particularly dazzling when paired with hazel eyes.
# 2 Gold Glitter Cut Crease
Take the gold cut crease look one step further with a dusting of gorgeous glitter. The metallic sheen of the sparkles will emphasise any gold or green flecks in hazel eyes while the gold undertone will complement all eye colours. Keep your winged eyeliner sharp with an elongated flick to truly enhance the glamour.
# 3 Purple Cut Crease
Across the world, purple is renowned as the colour of magic and allure. As a result, a purple cut crease will add an intriguing element to your makeup. This look is especially captivating on women with olive or darker skin tones. Naturally highlighting any glimmers of green in the eyes, this colour is perfect for those with greeny-blue, green or hazel eyes. Additionally, the dreamy shade will create a mystical effect on icy blue or grey eyes.
# 4 Silver Cut Crease
An ultra-modern and sophisticated silver cut crease will transform your entire appearance by drawing all attention to your eyes. Highlight beautiful brown eyes with this opposing shade or emphasise the piercing allure of light blue or grey eyes. Due to the shimmering, standout nature of this colour, opt for a half cut crease to keep your look refined.
# 5 Pink Glitter Cut Crease
For all the pink ladies out there, a pink glitter cut crease is a fun and flirty way to play up your eyes on a night out. This shimmering style will make your eyes sparkle, but the key is to choose the best shade of pink for your eye color. If you have rare grey eyes, light shades such as salmon pink and coral are for you. Additionally, coral will look incredible on blue-eyed beauties. Alternatively, if you have hazel or green eyes, a dusty, metallic pink will really make you stand out.
# 6 Burgundy Cut Crease
Highly versatile, a burgundy cut crease look can work for both day and night. Whether you're off to to the office, a daytime wedding or a night out on the town, this alluring look will ensure you appear sophisticated. For a fantastic look, use a neutral, nude shade on your eyelids to emphasise the burgundy cut crease above. Finally, complete the look with a matching burgundy lipstick. This colour looks incredible on women with any colour eyes. However, it is particularly complementary for dark blue or green eyes.
How to Do a Cut Crease
To create a cut crease, you'll need to apply eyeshadow just above the natural crease of your eyes, and 'cut' this new line with concealer or foundation to ensure it appears sharp and polished. Additionally, it is also essential to select an eyeshadow to be applied above the crease that is darker or contrasting to your chosen lid color.
#1 Natural Cut Crease
If you're looking for a simple, stunning way to define your eyes, but still want that effortless, "I woke up like this" appearance, a natural cut crease is for you. This style will make your eyes stand out by creating definition and highlighting your features. With a little practice, the steps to achieve this look are simple.
Steps
Apply primer to the eye area.
Use a warm neutral shadow to define your crease.
Apply concealer or foundation to cut the crease.
Set the concealer with a neutral powder before applying nude eyeshadow to your lids.
Line the upper eyelid with brown eyeliner and add a coat of mascara.
# 2 Easy Cut Crease
While a cut crease can be the perfect makeup trend to experiment with colours and sparkle, it can also be toned back for a subtle, beautiful look. If you want an easy way to highlight your eyes, aim for a natural cut crease. Then, add a little extra glamour with winged eyeliner.
Steps
Prime the eyes from the lids to the brow bones and apply a warm, neutral eyeshadow above the crease line.
Cut the crease with foundation or concealer and use a translucent powder to set.
Apply a natural eyeshadow color that complements your skin tone to the lids.
Use a black liquid liner to create a sultry winged eye.
Curl your lashes and apply your favorite black mascara on the upper and lower lashes.
# 3 Half Cut Crease
Mastered the easy cut crease and ready to take your makeup skills to the next level? A half cut crease is the beauty weapon to add to your artillery. If you want to experiment with bold colors or shimmering metallics, the half cut crease is the technique to try. Instead of keeping the colors above and below the cut crease separate and defined, this style blends the eyeshadow above down onto the lid, starting at the outer corners and extending towards the middle.
Steps
Prime the eye area and use a small brush to apply eyeshadow above the natural crease line of your eyes.
Cut the crease with concealer or foundation. Set with translucent powder.
Apply your chosen eyeshadow. We suggest a color that is a lighter shade of the eyeshadow above your crease.
Take the first eyeshadow color (used above the crease) and apply to the outer corners of your lid. Blend.
Apply winged liquid eyeliner to emphasize the look.
# 4 Double Cut Crease
For a look straight off the runway, we recommend the double cut crease. While this look is usually not for beginners, with a few simple steps and a little practice, you'll have it mastered in no time. Although it is called the 'double' cut crease, this style requires three distinct sections. This includes the eyelids, the cut crease area, and the skin above this space. Instead of the eyeshadow above the cut crease and the shadow on the lids meeting at the crease line, there is a gap created in between the two. The result, therefore, is an incredibly fashionable and intriguing look.
Steps
Apply primer. Use a small angled brush to apply eyeshadow slightly above your usual cut crease line. Blend.
Cut the crease with foundation or concealer. Set with translucent powder.
Apply your chosen shade to your eyelids, leaving a small gap between it and your other shadow.
Use a small brush and concealer to redefine the crease. Apply shimmering powder on top. Tidy eyeshadow if needed.
Apply liquid eyeliner, creating a wing that follows the line of the cut crease.
Your eye makeup speaks volumes about your style and when done right, it has the power to be immensely transformative. You don't have to be a makeup pro or a beauty guru to achieve big, bold and gorgeous eyes. Just try it what you got here today.
Link to glamfields.blog
Related products
Related Posts