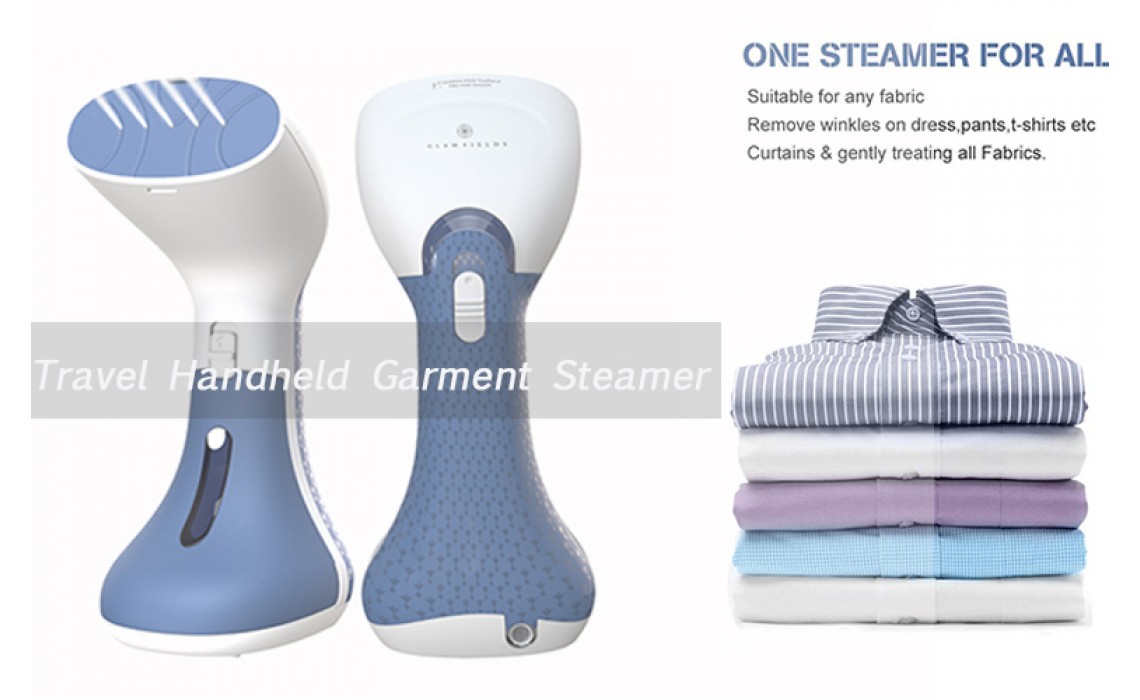 Do you have trouble removing wrinkles from your clothes?
Posted By: Weng Times Read: 1839 Comments: 0
Of course, no one doesn't have trouble removing wrinkles from garments, unless don't have that favorite decent shirt or dress. Not sure how you get rid of wrinkles for your clothes, we are here highly recommend Glamfields handheld garment steamer.
Amazon Price: $34.99
Glamfields steamer garment is packed with powerful technology that emits dry steam to remove wrinkles faster than the average iron, you can use a fabric steamer to remove wrinkles in clothes, cushions, beds and other fabrics around the house
Clothes Steamers Advantage
Heat Up Quickly
Clean Sterilize
Eliminates wrinkles fast
Anti-drip
Anti-scale
Travel garment steamer specifications
Voltage: 110-120V/60Hz
Power: 900W
Capacity: 135ml
Heat Up Time: 25s
Continuously Steam Time: 13-15min
Product Size: 115*96*225mm
Lightweight:649g/1.4 pounds
Small Garment Steamer Feature
Suitable for a variety of fabrics, such as chemical fiber cotton wool etc
Only 25~30s Heat Up Quickly:30Seconds to release to steam smoothly and quickly
Easy to Handle: The personal steamer is perfect for travel, it is small mini and handheld
Continually releasing steam, high steam flow, convenient and fast ironing, ideal ironing effect
Over-heating Protection: Automatic safety shut off when the temperature exceeds 145 degrees
Equipped with Nano polymer filter to purify the scale of heating pot and prolong the service life of the product
135ML Large capacity reservoir, one refilling equals to 3-5 clothes ironing. Provides 10 minutes of continuous steam on a full tank
Workable for Vertical & Horizontal steaming,360°Anti-drip and Leak-proof, freely turn the unit upside down or tile the steamer more than 45 degree
Garment clothes steamer operation
Step 1: Fill the tank with water
Step 2: Plug in the power, the indicator lights up
Step 3: Turn on the steam switch; (Don't straightforwardly point the steam nozzle at people)
Step 4: Fast Heating (30S)
Step 5: After ironing, unplug the power plug
Fabric garment steamer warm Tips
If the handheld steamer is making a loud noise, it may be caused by dry heating, please check the reservoir and refill water if there is less water in it
Never straightforwardly point the steam nozzle at people or pets
Don't overfill the reservoir above 136ML with this clothing steamer
Only fill the tank with cold water, built in filter. you do not have to worry about dirty water
Garment steamer hanger packages
1*GLAMFIELDS Garment Steamer
1*Brush Attachment
1*Measuring Cup
1*User Manual
FAQ:
#1 would this steamer also work on tablecloths, cloth napkins, bedding? Yes, it would.
#2 How big is the clothing steamer? Garment Steamer Dimensions: 4.5*3.77*8.85in
#3 How many watts is it? 900W
#4 How long can it be used if it full of water? It can steam 10~13 minutes continuously.
#5 Does this work only with garments hanging – will it work on a flat surface like an ironing board?
You can hold it any direction and the water doesn't leak out. So yes you can use it similar to iron on board.
#6 How much is it weight? Item weight: 1.4 pounds, Lightweight, portable and compact.
You can see this youtube video: https://www.youtube.com/watch?v=yYbBzW5Z26Y
Or see this instruction:
Step 1: Fill the tank with water
Step 2: Plug in the power, the indicator lights up
Step 3: Turn on the steam switch; (Don't straightforwardly point the steam nozzle at people)
Step 4: Fast Heating (30S)
Step 5: After ironing, unplug the power plug
5-Star Reviews
I have been using traditional iron for ironing til one friend who works at a Coach store told me about garment steamer. I don't have the room in my closet to store a full-size steamer. Plus, I have a hook on my closet door to hold my cloth so I don't really need the cloth hanger setup that a full-size steamer come with. So I decided on this handheld one. The steaming power was one thing that I was originally concerned about. But I gotta say I am fully impressed with the performance of this little guy. It works as good as my iron but a lot easier to maneuver since you can just stretch/smooth the desired area as you go. Thank god I no longer need to take out my ironing board for just one garment! One switch and the steam comes out in less than 5 seconds, no more sore thumb from repeat pressing the steam button on my old iron.
One bonus is it comes with a pouch bag so I can bring it on a trip. Very thoughtful.
Overall, very happy with the purchase.
After using this steamer for over a month, I really like it.
1. I'm not good at ironing, thus get this steamer instead. When I first saw the size, I was a bit concerned, however, it's much more powerful than I expected, quite satisfied.
2. Because of the size, it looks very cute and lightweight. I really like it's portable and cordless. You can use it on hanging shirts as well as on iron board.
3. It does its job well. I mostly use it on my silk shirts. Each water refill can steam 2-3 shirts. It heats up fast and takes me 3-4 minutes to steam one shirt, quite time efficient.
4. Because it's light and small, I've brought it with me while traveling for the recent two trips, very convenient.
Overall, I'm pretty happy about this steamer.
I am very pleased with this garment steamer. It's portable, efficient!
My old clothes steamer was spitting water all over my clothes and dried in one or two minutes. It never got hot enough to remove the wrinkles. I ordered this steamer to use while traveling. I tested this steamer out quickly and seemed to work fine. Heats up quickly and it doesn't spill water. It does get rid of the wrinkles. Definitely recommend.
I've been paying dry cleaning shop for years to iron my shirts because I simply don't have time. Until I came across this garment steamer at my mom's and saw how quick it "ironed" the cloth, I couldn't wait to order one. It is amazing! The steamer is lightweight. It only takes less than 5 mins to make a shirt crispy. Not iron board set up needed. I can literally "iron" my cloth anytime now. I am considering to buy one more for the office in case of a quick makeover is needed for the shirt before attending a meeting. It saves me so much money and time.
What else do you want to know for life? Like and drop comments to inform us, thanks for your support and keep follow our blogs, should you have any question, feedback or inquiry, welcome to contact by:
Link to glamfields.blog
Related products
Related Posts