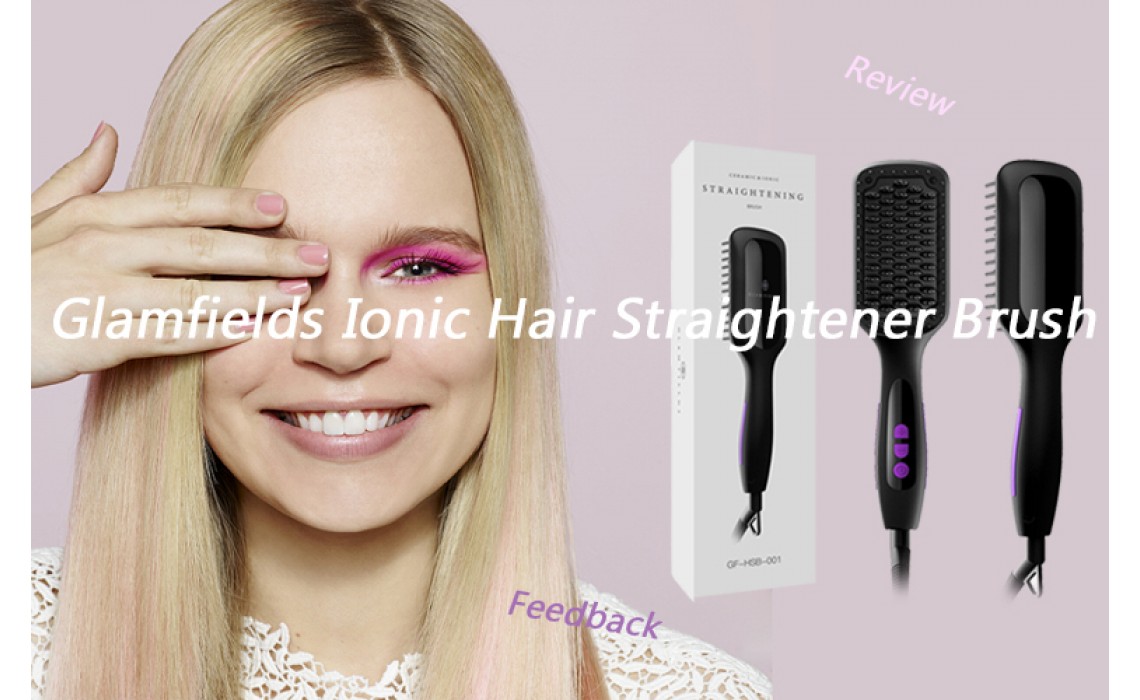 How do you think Glamfields Hair Straightener brush?
Posted By: Weng Times Read: 944 Comments: 0
Glamfields, a new power in hair straightener brush this fields in short time, from technology, design, temperature setting, function, a series accessories and the cool gift box , which satisfy all customer need, let's see what's the customers saying to their products, maybe it helps you decide to have one.
Reference Price of Amazon: $42.99 Glamfields Ionic Hair Straightener Brush
Parameter:
Heater: Metal Ceramic Heater (MCH) ;Temperature range: 250°F to 450°F; Warm-Up Time: 30-40 seconds; Automatic Shutoff: 30 Minutes ;360°Rotate Swivel Power Cord: Yes;Voltage: 120–240V AC; Frequency: 50 -60 HZ ; Power: 68W
Package Including:
1 x Hair Straightening Brush ;1 x Heat Resistant Glove;1 x Smaill Clean Brush; 1 x Cloth Bag;1 x User Manual
8 Honest reviews from Customers:
#1 Buyer: Boymom2
Makes thick hair like african american hair very manageable.
I'm a dark skin Puerto Rican and with that comes very thick hair. If I don't straighten my hair 1-3 times a year with chemicals the roots are so thick that it hurts to comb. Even when it's moisturized. Or I comb fine then it gets real thick again like I did nothing to it. When I normally flat iron my hair it can take 1 to 2 hrs depends on how thick my roots are. With my roots now being a little thick but manageable I was able to finish in 30 to 45 mins with my routine using the brush. Only thing I would take a star off for is you got to pass it a few extra times on thicker parts like roots. Roots not bone straight but very manageable.
I would recommend this product if you just want a quick straighten but not too fancy.
Pictures are me right after I used brush.
Overall satisfied. Busy mom of 2 kids and can't spend a long time on hair so I'm glad I bought this.
#2 Buyer: AnnMarie
I have never owned a straightener of any kind, ever, because I have trouble gripping things. I tried using friends' straighteners but have been burned (literally) because I can't keep them clasped closed. After watching no less than 20 vids, I thought a straightening brush might work for me. I mean, I brush my hair, right? I found Glamfields through a "best product" list and the price was reasonable, the brush looked big (important, I have A LOT of hair,) and it qualified for Prime.
I'm not going to lie, I was already skeptical but vowed to keep an open mind. However, as soon as I pulled the box out of the envelope, the straightener slid out of the box and fell on the floor as I was unaware that the box was open on both ends. It is one of those "slide-in" boxes, so be careful. I picked up the straightener. The straightener was still safe in its protective box. I took it out and did my inventory, making sure everything in the product description was there (it was.) I read the provided literature. It was simple enough, so I plugged it in. I set it at a random (400°) temp because I wasn't sure how hot I'd need it. It heated up quickly. It honestly took me longer to brush the tangles out of my hair than it did to heat up. I braced myself and picked up the straightener. I almost forgot, it weighed less than I expected, an added bonus. It was solid but not bulky. I carefully brushed it through my hair, pleased that the base of the cord was not fixed in place, providing a lot more freedom of movement. A very good thing, since I am left handed. A little playing around with the temp and my hair was perfect! I didn't drop the brush once! The flexible pivoting of the cord along with the freedom of being able to move my fingers and adjust my grip without losing the heat source made it possible. I'm in love!
Pros:
* Lighter than expected but not cheaply.
* Heated up quickly.
* Good size. I can get a lot of my long and super thick hair through the teeth, cutting time significantly.
* Temp lock. I accidentally press the buttons a lot while I use it but locking the buttons takes care of that, no problem.
* Pivoting cord base. Good for left handed people.
* Easy to use, although I recommend reading the instructions.
*Comes with a heat-resistant glove, which I recommend using.
Cons:
* The provided velvet traveling case is too small for the glove, brush, and cord.
*The glove is too big for me, but most gloves are. I have tiny hands.
* It did smell like burning plastic for a few minutes at first. Went away after a bit of time.
Honestly, I highly recommend it. It's an excellent product and has so far exceeded all my expectations. The issues I had are minor inconveniences that do not take away from the working of the brush.
#3 Buyer: Caroline Bi
I have a couple of hair straightener but I just have too much hair to do. It takes me about one hour to do my hair straight. This brush is exactly what I need with a great price. It takes about 10mins to straight all my hair and I won't worry burning myself with it. The temperature is adjustable and it's not burning on the tips. And it is actually a brush, so you don't have to brush your hair after straighten it. It's something I definitely want to keep at home and bring when traveling.
#4 Buyer: Francisc
Give natural straight hair look. Fit my laziness.
Tried 3 times after received. Tested this product under my hair's most frizzy condition –> shampooed at night, leave dry without any combing. I have long hair.
The result is satisfied. This comb straigtened my hair just like after I used my ionic hair dryer with roller. It gives natural straight hair, unlike hair straigthener. If you look for a product which gives you real straight hair, this may not fit you.
Sometimes I am lazy to comb and dry my hair after shower then go to bed right away. My hair frizz like hell next day morning, I need to wet my hair again for styling. Too much work. This product fits my laziness.
#5 Buyer: yestfl
I love it! It has lots of settings for differents type of hair. My hair is long, coarse and thick so I used a higher heat setting. It is easy to handle but I did find myself pushing the temperature control buttons on accident a few times. It usually takes me about 1 hour to blow dry my hair, but with this brush it took me 20 minutes. The only thing I used was the smoothing cream. I didn't feel like my hair was damaged or burnt during the process. It was left really shiny and with volume, compared to using a flat iron which leaves hair flat. Overall very happy with my purchase.
#6 Buyer: Kimi
It really works & fast! AMAZING
I truly could not believe how well this worked…lt blew my mind away! I have very curly hair! I have tried straitening irons.. I hate how long it takes to blow dry then I have a huge lion's mane that I have to try to straighten with a flat iron.. usually takes 3 or so hours to get through all of it.. I popped this brush out of the box same day I received it just to see if it really did work. Half my head was perfectly straight in 15 min! I did not blow dry prior.. Just went from curls to straight. Highly recommend. I love my curls but sometimes I want to change it up. This product blew my mind!
#7 Buyer: Kathryn McNamara
A Gift From the Hair Styling Gods!!! (and Goddesses
LOVE LOVE LOVE THIS THING!!!!
I mean where has this been all my life?! I only learned these types of tools existed recently and when I did my research, this straightening brush had the highest reviews so I thought it might be worth it to invest the extra $20 vs going with the lesser priced ones with fewer 5 star ratings (cuz I loathe having to put the effort into returning anything from Amazon).
And let me tell you, it was DEFINITELY worth the small investment!! I have super thick wavy hair and with a chi straightener it usually takes a half hour to straighten my hair and about an hour to get it perfectly straight (if you want to call it that
Now I read from other people that most straightening brushes doesn't get your hair perfectly pin straight, especially those with wavy/curly hair. But this one actually does! You just need to hold the ends of your hair on the brush for 10+ seconds.
The auto lock feature also makes it much easier to maintain the ideal temperature without worrying about accidentally hitting the buttons. And speaking of temperature, it makes my hair straight damage free! Normally when I straighten my hair the day before I need to wash my hair again, my hair is a giant grease ball the next day. But with this brush my hair is silky smooth and not oily at all!
Overall I would highly recommend this! It will save you sooooo much time and frustration in the future.
#8 Buyer: 2xmommy2011
This product is AMAZING! I have naturally curly hair that I choose not to shampoo every day. But on those "no wash" days everybody knew it! I would have a frizzy mess that I just couldn't seem to do anything with. If I had the time I would blow it straight and straighten it further with the curling iron after I washed it. However most of the time I don't have the time to do that. So one day I was in my local Sam's club and one of those sales people selling "we're only here till we run out of product" started towards me. Typically I don't make eye contact and bolt because I do t like to be bothered but she had an interesting tool in her hand. After talking a few minutes I tried it and fell in love. I didn't buy it because their package was $135. I came home and did some research – actually a LOT and found that this was probably my best bet. I ordered it and it has changed my life! On the "Day after a shampoo" (or the day after that or in some cases the day after that!) I can spruce it up with this straightener and I still feel like my hair looks great! I've been told many times how good my hair looks! I've read that some folks don't like the way that it gives you no curl only stick straight hair – I simply brush thru but not all the way to the ends. Then I pull the brush on the underside of my hair turning it under as I go. Make sense?
I hope you will give this a try! I would give it 10 stars if I could!
Wow…this is an amazing brush ever heard, what are you waiting for, action quickly to contact by:
—–Email: [email protected]
—–Pinterest: https://www.pinterest.com/tomchen8339/
—–Facebook: https://www.facebook.com/Glamfields/
—–Twitter: https://twitter.com/Glamfieldsblog
—–Instagram: https://www.instagram.com/glamfields/
—–Blog: https://glamfields.blog/
—–Web: http://www.glamfields.com
Related products
Related Posts