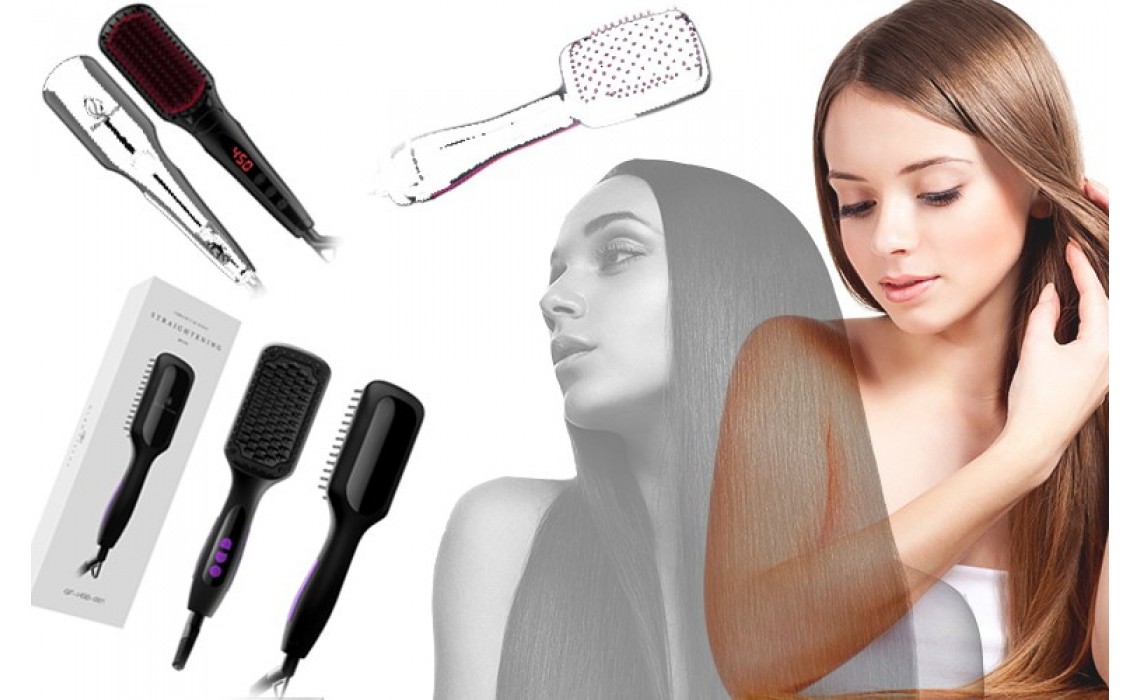 2019 TOP 3 hair straightening brush easy your busy morning
Posted By: Weng Times Read: 6808 Comments: 0
Hate to manage your frizzy, messed, fly hair routinely? Try styling with a hairbrush straightener to easy your busy morning. Here introduce TOP 3 hair straightener brush for your choice:
Best choice for THICK HAIR:
AUTHOR'S CHOICE: If you have naturally frizzy or thick hair, the GlamFields Ionic Hair Straightener Brush is for you! As our editor's pick, this hair straightening brush is packed with professional-grade features to give you the silky, shiny hair you have always wanted!
Benefits:
Negative ion technology protects hair, Promotes shine and locks in moisture, Eliminates frizz, Wide tooth design is ideal for longer or thicker hair, Promotes healthier looking hair with use, Heats in just 40-seconds, Maximum heat settings of 450° F, 360° swivel power chord, Auto shut off feature after 30 minutes, Temperature lock setting
Best choice for THIN HAIR:
AUTHOR'S CHOICE: The MiroPure Enhanced Straightening brush doesn't just straighten your hair in minutes, it actually massages your scalp and stimulates your hair follicles. With this brilliant hairbrush straightener, you can get a stunning, smooth, radiant style as you seal your cuticles, meaning that you cut down your splits ends. Your locks will soon be looking lustrous, silky and healthy, with fewer flyaways and frizz.
Benefits:
Professional Nano Com, 16 temperatures settings, Dual-ionic generator, Metal-ceramic heater, Warms up in 60 seconds, Temperatures lock, Automatic shut-off in 60 mins
Best choice for WET HAIR:
Dries And Styles Your Hair
AUTHOR'S CHOICE: By far, the best feature of the Revlon One-Step Hair Dryer and Styler is its ability to dry and smooth at the same time! With this unique tool, you no longer need multiple styling gadgets like a blow dryer, flat iron, or separate hair straightening brush since all of these tools can be replaced with the Revlon One-Step Hair Dryer and Styler! If you need a little help getting started with this all in one tool, check out these step-by-step instructions provided by the wonderful pros at Revlon.
Benefits:
Dries and styles hair all at once, Features tangle-free bristles, Each bristle has a massage ball tip for a gentle massage on the scalp, Multiple heat settings for various hair types, Includes a cool setting, Easy-to-use rotating dial control temperature settings
Our Top Tips for Using and Cleaning Your Hairbrush Straightener
You've done your research and you've purchased your new hairbrush straightener; now all that's left to do is start styling and caring for your new beauty tool! To help you get started, we have created your go-to guide for using and caring for your hairbrush straightener so you can start living life with the glossy, straightened hair you have always wanted!
Tip #1: Use A Heat Protectant Spray
Even the most advanced heating tools can cause a bit of damage to your hair over time. To avoid this, simply spritz a bit of heat protectant spray on your hair before styling. You precious strands will be glad you did!
Tip #2: Less Is More
Unlike traditional flat irons or blow dryers that require repetitive styling over the same section of hair, hairbrush straighteners typically get the job done in a swipe or two. Before you start brushing your hair to oblivion, take it slow and see what a single pass can do to avoid unnecessary heat damage.
Tip #3: Give Your Locks a Breather
Yes, hairbrush straighteners typically contain anti-heat damage technology and yes, sometimes they can even be good for your hair; that said, give your hair a rest and try to incorporate at least one non-styling day per week, if possible. This break allows your hair's natural oils to build up and condition your strands from the root down, which can strengthen your hair and restore shine!
Tip #4: Keep it Clean
Like any styling tool, your new hairbrush straightener will accumulate dust, oil and loose hair over time. Make a point to clean your hairbrush straightener at least once per week (when it is turned off and cool, of course!) to prolong its lifetime.
Tip #5: Store in a Safe Place
Store your hairbrush straightener in a cool, dark place away from water, such as a bathroom cabinet or linen closet.
Tip #6: Practice Makes Perfect!
Like any new styling trend, mastering the art of hair brush straightening can take a little practice. You will find that this method of hair straightening is much simpler than other styling techniques, but give yourself a little time and practice. In no time at all, you will be brushing your hair to straightened perfection in a matter of minutes!
Contact us:
—–Email: [email protected]
—–Pinterest: https://www.pinterest.com/tomchen8339/
—–Facebook: https://www.facebook.com/Glamfields/
—–Twitter: https://twitter.com/Glamfieldsblog
—–Instagram: https://www.instagram.com/glamfields/
—–Blog: https://glamfields.blog/
—–Web: http://www.glamfields.com
Related products
Related Posts