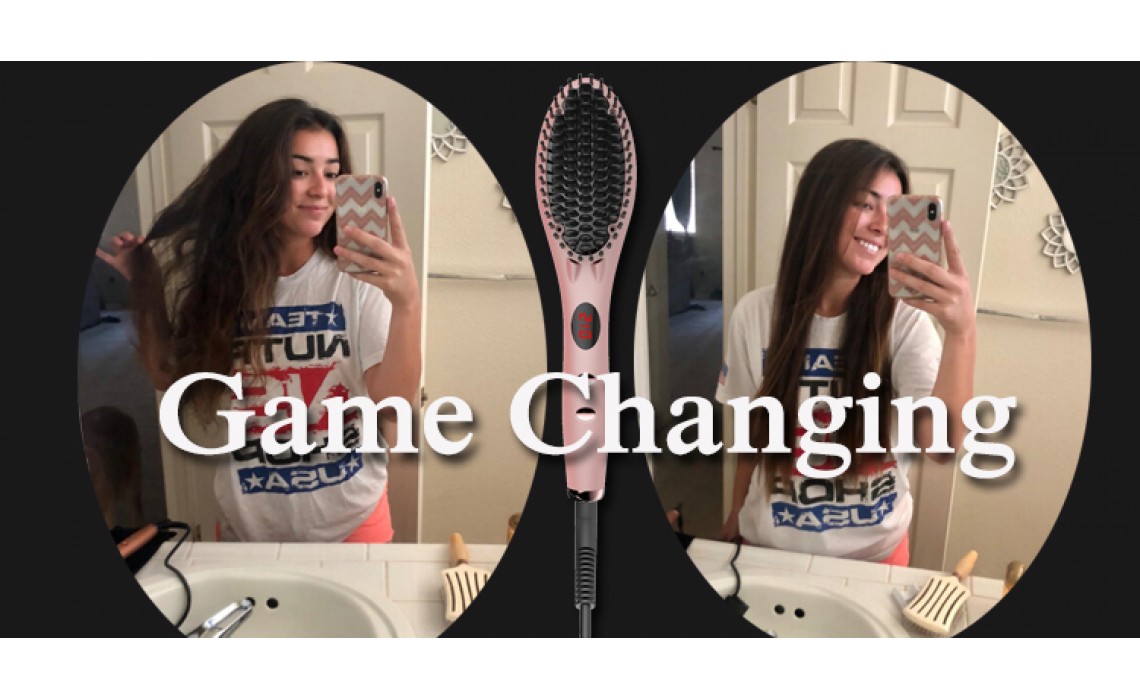 Q&A about Glamfields hair straightening iron brush
Posted By: Kaly Neo Times Read: 1001 Comments: 0
Today hair straightening brushes are the latest fad among girls with all hair types. Gone are the days of flat ironing your hair with all that excruciating pain! If you want to try something new and versatile, Glamfields hair straightening brush is just the right thing for you. The Glamfields hair straightening iron brush is ideal for people who prefer a natural healthy look for their hair over the poker straight look. This hair straightener brush is truly the smartest hair styling solution ever.
I am so impressed with this brush straightener. It came really nicely packaged and included hair clips and a heat glove. Although I didn't need to use the heat glove. The top of the brush stays cool enough that it won't burn you, so it's no problem if you touch your skin with the brush while using it. My hair is naturally curly and thick and usually takes me 30-45 min to straighten. I also usually have to put the straightener on the highest setting or it takes even longer. I just used this brush on 410 degrees and it only took me 10 min to straighten my hair!! I have a 1-year-old so I have very limited time to get ready every day so I'm really excited about this. I'll be able to straighten my hair more often now. Also, all you have to do is brush your hair so I didn't have to deal with any hand cramps from clamping the straightener, or get tired from holding my hair up. It went so fast and smooth. I have included before and after pics of my hair. Overall, I'm so happy with my purchase, I love Glamfields!
360 Swivel Power Cord
This compact simply straight brush comes with a 360 rotating handle that helps you operate with one hand with utmost convenience.
Fashionable and Efficiency Design
Small size for ultimate convenience while styling ​Next generation 360° anti-scald bristles 59 bristles allow 7 times more contact than a flat iron in every stroke.
Please Note:
If you leave the buttons still (unpressed) for 5 seconds, all buttons of the device automatically locked; press the power button twice constantly to unlock.
The Best Tips for Straighten Your Hair (IMPORTANT):
Use only on dry brushed;
Coverless hair in one stroke once for thick and curly hair;
Brush Slowly in a pulling motion;
Make Sure your hair gets deep into the inner area of the brush.
Have you suffered such kind of problems while you using Glamfields hair straightening iron brush? Here are some frequent and normal customer questions & answer.
Customer questions & answers
Q: are the tips of three bristles hot? Do the burn scalp or fingers?
A: The tips or bristled are not hot .., the base of the brush is…. you run the brush through your hair like combing it. Or take sections and run the brush under each section to smooth the hair.
Q: Does it comes with the glove?
A: Yes, one glove.
Q: Will this straight brush take care of frizz?
A1: Yes, I got rid of the frizz through this ceramic straightening brush. Work fine!
A2: It didn't do too much for mine.
Q: Does its automatic shut off?
A: Yes, the ceramic straightening brush automatically shut off after 30 minutes.
Q: Does it work for African American natural hair?
A: Sure, it also can work.
Q:Does anyone knows if it's possible to clean this? I didn't keep box/instructions and because I sometimes use it later in the day after I've used hairspray, it is gunky
A: The answer is NO. It isn't waterproof. It says not to clean it under running water or immerse it because it will damage inside parts. You can only clean the hair and dust out of it with the little brush. Do not clean with any chemicals or scrubs.
Q: Why does it say travel size
A: The electric hair brush size: 10*2.5*1.5in, it is perfect for travel and vacation.
Universal voltage 120–240V AC for worldwide usage.
Q: How long does it take to straighten slightly wavy hair that is thick?
A1: I brush each section repeatedly till it's straight and shiny, and then I use this same brush to style and flip my hair a bit after it's been straightened. All that takes about 5 minutes.
A2: Just a little while. Maybe spend 2-3 minutes.
Q: What's the glove for?? The handle doesn't even get hot
A: Glove is used to catch hair, the comb handle doesn't heat up.
This hair straightener brush has 4 different temperature adjustments(330˚F-370˚F-410˚F-450˚F)
When the temperature of the brush you use is high, the hair will have a temperature.
Q: Can I use it daily?
A: Yes, you can use this hair straightener brush daily.
I tentatively purchased GLAMFIELDS Hair Straightener Iron Brush with not very high expectations but with hope that the hype was real and ….. it was exactly as promised. I love this straightener it quickly and without doing damage to my fine hair straightens it and reveals the precision cut I pay so much for. Prior to using this brush, my hair would look frizzy and the lines of the cut were not obvious, no more. Seller was prompt and responsive when I contacted them. All in all a great product and customer service.
Related products
Related Posts