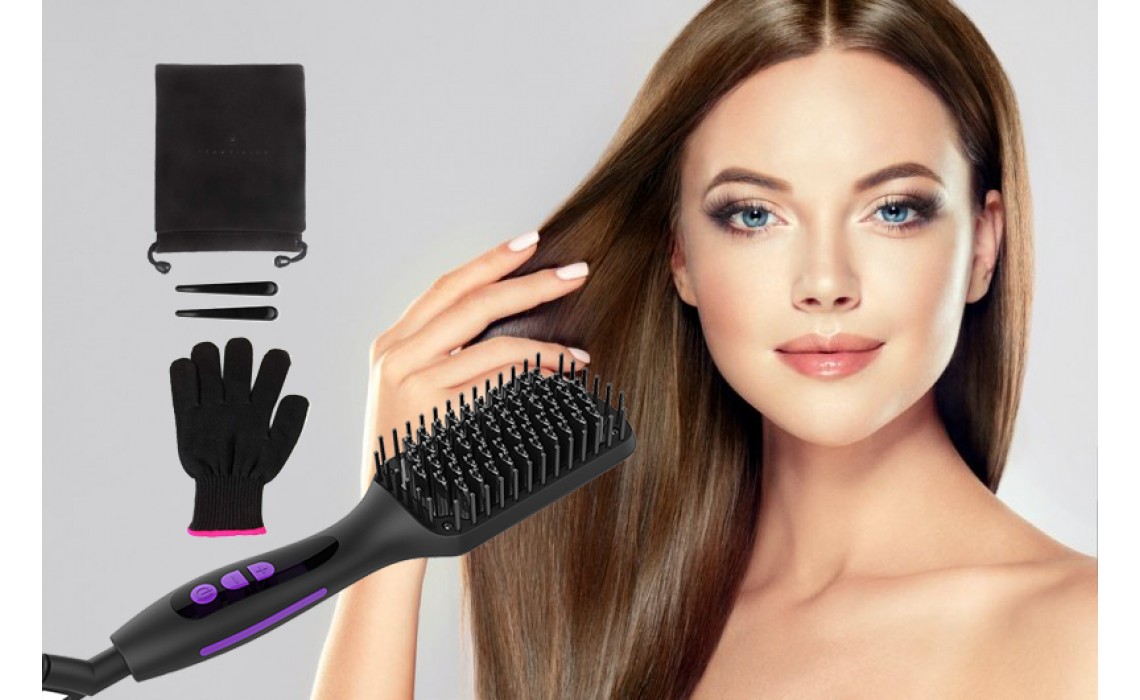 Top 2 beauty tools for Australian 2019
Posted By: Kaly Neo Times Read: 524 Comments: 0
Living in Australia I always feel mad when I trying to find something I need, especially as a makeup lover, I can't stand without a touch screen switch makeup mirror and with magnification, it's a sure thing for MUA. Busy schedule I need to save my time on hair beauty and makeup routine, luckily, I got my Glamfields hair straightening brush and vanity Mirror with lights today and had to at least try it real quick.
I already like it for ease of use, but my hair had been straightened earlier in the day so to say it works great won't be truly accurate until I start with my normal blow or air dried mop. The LED display should be brighter but that's not a game changer for keeping it. I have insanely curly hair. Dense, fine, often frizzy, hair that does not like to be straightened. If I don't do anything to my hair after washing it, my kids say I look like a lion (with a crazy mane). So, I decided to give this straightening brush a try. I have an older straightening brush that I purchased in the past that works pretty good, but requires a lot of time to get the job done (about 45 minutes). My hairdresser told me to get a straightening brush that goes up to at least 350 degrees (this one goes up to 390), so I purchased this one to give it a try. I had my husband take a "before" picture –this was taken AFTER I had spent time brushing my hair straight (with a regular round brush) while blow drying on low. The frizz is real, folks! I was a bit sceptical going in, but this high-power straightening brush worked its' magic! In just 12 minutes I went from frizzy to fantastic (see the "after" pic)! I am very happy with this straightening brush and will be using it for many years to come! Great product!
These are before and after photos of my hair. As you can see, the before picture is my hair with nothing on it and air-dried overnight. I did put Joico protein spray on my whole head while it was wet but this is exactly how I'd do my hair on both sides so that doesn't play at all into the accuracy of the GHD flat iron side or the Glamfields Brush. So the GHD side is the side on the left (or the side with less hair from the part.) The right side is Glamfields. There is barely any difference at all.
The real difference is something you can't see. It's that a flat iron allows you to get much closer to your head for a bit tighter straightening and it also doesn't allow for curling like you can with a flat iron. For me, that isn't a big deal either. If you want volume with it you just have to practice with it a bit to turn it slightly and let the heat make the bend. I have a very small Babyliss that I keep in my heat case with either the flat iron or this so again if I need something for that I have it.
Now here is the part they don't tell you at all about this and its something EVERYONE who uses heat products should look for in ANY Iron or Blow dryer and the Glamfields has it…my GHD that cost double this price does not. LOOK at the cord. The cord on the AirPlus is a professional grade tangle proof cord. They are thicker than other cords by I would say at least double. (like a pencil) it has the hanging hook (not a big deal) but it also has the velcro strap to easily twist-n-tie. The glove came with again nice but no big deal. It does help keep you from burning your hand on your hair but so does being careful LOL. I use the glove to set it on if I set it down on, so it doesn't burn anything. Overall. I like this brush a lot and recommend it. I like the ease of use and that it seems quicker to me than my flat iron. I'll still use them both but I know I'm going to use this brush a lot more than the flat iron. It's well worth the purchase.
Another tool I must hight light is Glamfields 360°Rotation LED makeup mirror, I am super impressed by the quality of this makeup mirror with 44 LED lights! My mother splurged on a Simply Human mirror that was over $200. I couldn't take the plunge and decided to go with this one. Comparing the two, honestly, I like this one better. The LEDs are bright and adjustable I can see myself clearly and I love the magnified sections. The lights are dimmable by simply holding your finger on the power button. The three different magnification levels are super handy for seeing up close without having to lean over your bathroom vanity or sink. The adjustable angle of the base is super helpful and easy to work with. I love that you can plug it into a phone charger power brick in lieu of batteries. The mirror is not heavy at all so it can be moved and handled with ease. It's also easy to store when not in use and it folds up nicely!
Very practical mirror. Good to have zoomed section if you need to do some pimple work or detailing makeup. Easy to put together and with that light I can see every pore on my face. I love it lol it's great for me as I have glasses and to put eye makeup I have to take my glasses off and put my face mere inches from the mirror to be able to see what I'm doing. This helps a lot! It does not come with power adapter although it contains a micro USB cable. You will need your own USB power source. Actually, I have to say, I never regret these two tools I bought. Hope you divas will enjoy it.
Related products
Related Posts