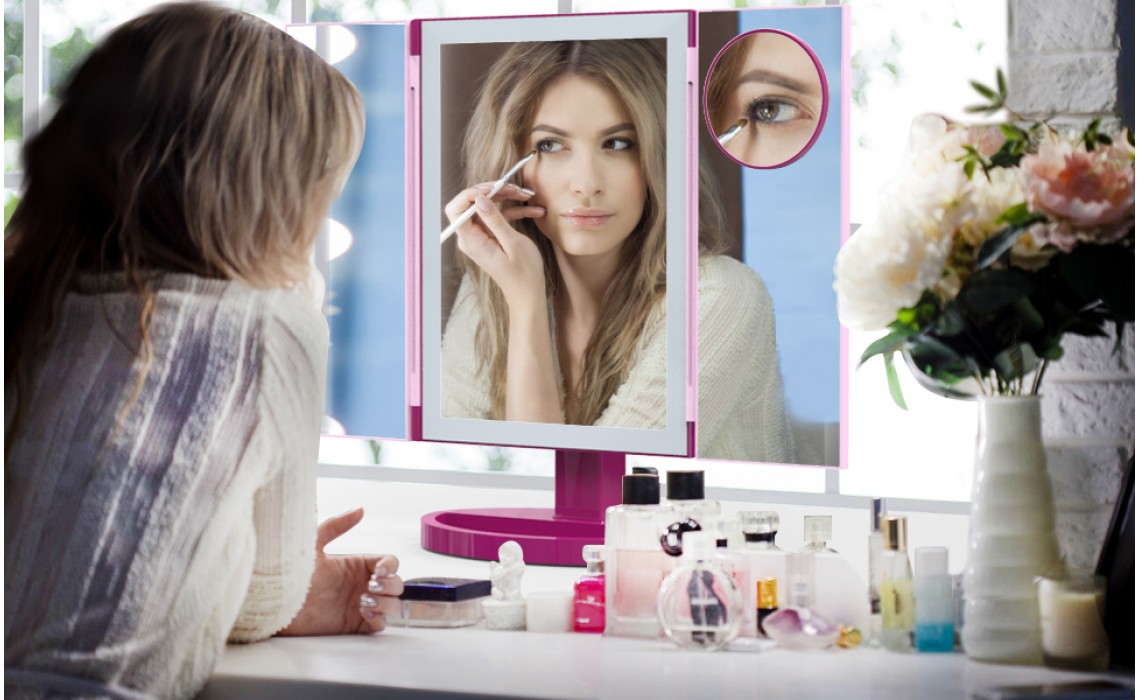 Review Glamfields Vanity Mirror with Lights
Posted By: Kaly Neo Times Read: 670 Comments: 0
I used to think if you have an ordinary mirror then you can do beautiful makeup. Yet I was wrong, I purchased Glamfields Vanity Mirror with Lights after my sister birthday party, everyone put up a very stunning makeup, but not me, I remembered I dedicate my makeup for a few hours, however, it's not as perfect as I see in my mirror, it was awful when I see in the photos that photographed while the party. Then my friends gave me a suggestion, "forget your old mirror, take a new one with LED lights, you deserve a better makeup. Try Glamfields 360°Rotation makeup mirror, it's got a nifty tray on the bottom to hold small things, and you can use batteries or plug it up! Easy for those girls have not used LED makeup mirror before. Later I realized that you have to take some time to adjust to this kind of mirror with lights.
Never regret to take this mirror. I was a concern that it might be too small. It's perfect for me. I wanted it to be big enough so I can also use it when I curl my hair. The USB cord is too short but I plug it in my battery back it works great. I haven't tried batteries yet. It's bright enough for me. I can see all my pores. It's a bit of weight. Made of plastic. But seems durable it will be so I don't need to take the bubble plastic it came with for when I travel. For the price and for what I needed it for I recommend this product. I have nothing to compare it too just read tons of reviews. I compared it to other products in Amazon but it came down to deciding if I needed the magnifying mirror option. I'm not used to the magnifying mirrors when I do my make up. But it great for plucking eyebrows!
The dimmer takes a little bit of a learning curve. You have to place your finger directly in the centre of the button at the bottom of the mirror and lightly add pressure. It won't adjust if you are pressing too hard. Once you know the pressure it takes then you are all set.
Why I choose Glamfields Lighted Makeup Mirror with 44 Led Lights?
The lighted makeup mirror has 44 lights which are evenly distributed all along with the mirror. The LED lights offer a naturally bright illumination while the tri-fold design provides better viewing angles. The makeup mirror is 90 degree up and down rotation, and 360 degrees surround rotation. The amazing light adjustment allows you to dim or brighten the illumination by the touch button.
Features:
-HIGH DEFINITION makeup mirror
-44 LED lights that can be dimmed
-TRI-FOLD design that shields the light from dust and scratches
-360 degree surround rotation design
-DUAL POWER SUPPLY through AA batteries and USB cable which
makes it portable as well
-Detachable tray for storage that can be cleaned and used
-Recess at the base for the purpose of storage
Specifications:
Material: ABS
Powered by: USB Charging (Included) / 4 x AA Batteries (Not Included)
LED Control: Touch Screen ON /Off
Will it give enough light and magnification to apply eyelashes?
Just put mine on last night! The battery way gets dim after a couple of days but the USB plug keeps it nice and bright! So you can power the led makeup mirror through USB charging cable directly which has been included in the pack or put in four AAA batteries which you have to buy separately.
All in all, I am very satisfied with this mirror with so much LED lights, you can adjustable lighting, warm and cool as well as adjustable brightness. Holding down the circle at the bottom of the centre mirror changes lighting types, and sustained holding down adjusts brightness. Side panel, left, top and bottom, are magnified, bottom left is the most magnified. Mirror tilts, which is very important so the height of the desk or table need not be exactly in line with the mirror. Pretty quilted look when closed, that looks like fabric almost, but is easy to keep clean. I haven't tried it with the USB cable yet, and I don't know how long batteries will last, but this is not too important since with this mirror I can finish my makeup pretty quickly and stunning!
Link to https://glamfields.blog/2019/04/30/review-glamfields-vanity-mirror-with-lights/
Related products
Related Posts