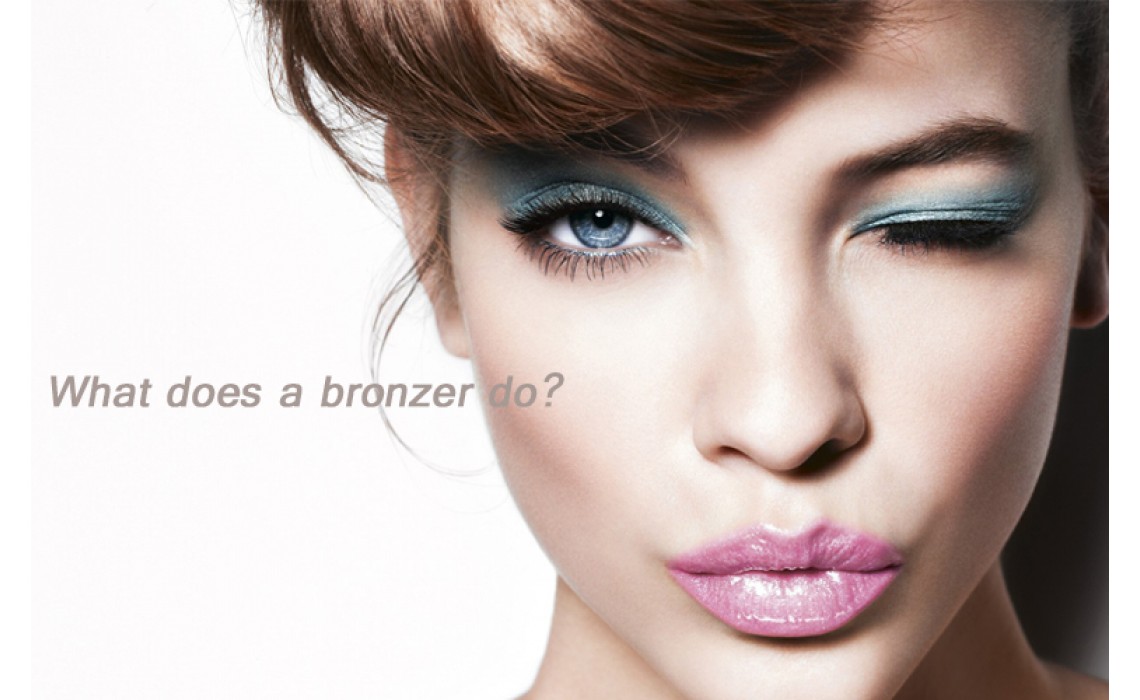 What does a bronzer do? #4 Comestic
Posted By: Weng Times Read: 1406 Comments: 0
Bronzer is a type of makeup (most often in a powder form) that adds a bronze color to the skin. Bronzer comes in golden bronze flesh tone colors that are deeper than a person's natural skin color. Most bronzers are not flat looking, but have a little bit of shimmer, or light reflective quality to them. People use bronzer to add a little more color to the skin, or to "fake a tan".
Bronzer types
#1 Powder Bronzer
Powder bronzer is one of the more traditional types of bronzers used by makeup junkies, and is typically applied with an angled bronzer brush. "When using a powder solution, make sure to tap off any excess product from the brush. Create a "3", starting from the forehead (moving outward, toward the temple), then under the cheekbone, and along the jawline," says Oliver.
And of course it's also great for contouring. "To make noses appear smaller or straighter, use an eyeshadow brush to trace bronzer along both sides of the nose — this gives the illusion of symmetry and slimness." In terms of shades, Oliver prefers a taupe bronzer versus a red or terra cotta one, as the latter tends to pull more orange tones when they settle on the skin, whereas a taupe shade looks more natural.
#2 Liquid Bronzer
Liquid bronzers, like the Giorgio Armani Maestro Liquid Summer Bronzer, are quite easy to work with once you get the hang of them. "I use liquid bronzers on clients who want to have a naturally contoured appearance," says Oliver. "And since liquid bronzer almost melts into the skin, it's easy to blend, and sits well on top of textured skin (acne, rosacea, eczema, etc.)."
Pro Tip: Squirt a little liquid bronzer into the palm of your hand. Take a bronzer brush (or blush brush), and swirl the bronzer until the color is entirely in the brush. Then, apply your product as you would a powder bronzer — it totally takes the intimidation factor right out of the application.
#3 Cream Bronzer
"Cream-based bronzers are fantastic for applying for heavier coverage or creating a more sculpted contour on the skin," notes Oliver. She also recommends cream bronzers for those with dry, mature or wrinkled skin. "There's something so beautiful about the way a cream bronzer glides over the skin," she says. "And applying a cream-based bronzer immediately after liquid foundation for a more natural finish!"
Oliver recommends dipping a flat foundation brush into a cream bronzer, even something like the Urban Decay Naked Skin One and Done, and create a line starting under the cheekbone and working upward toward the ear. Use a wet beauty blender to blend it in. Apply the bronzer to the forehead, along with the hairline (make sure to blend it right up to the hairline so there aren't any visible lines or streaking) and jawline with the flat foundation brush, finishing on both sides of the nose with a concealer brush. Finally, blend, blend, blend!
Powder Bronzer Makeup Tips
Bronzer comes in powder, liquid or cream formulas, but powder bronzer is the easiest and most adaptable bronzer you can use.
Powder bronzer can quickly be applied to both the face and body. I like to apply powder bronzer as the last step in finishing up a makeup application.
This can prevent the bronzer from looking too heavy-handed.
So first, apply all of your makeup, including blush, and set with a little powder. Then, you can lightly dust on the bronzer afterward for the finishing touch.
To add bronzer to the skin, visualize where the sun would most likely tan you first, and then add the bronzer to those areas.
Sweep a little across your forehead and then slightly under your cheekbones to enhance your bone structure.
And don't forget to add a little to both sides of your neck! I also like to add a little to the collarbone, decolletage and shoulders.
To get the most "natural tan" look, I recommend using the proper brush to apply powder bronzer.
The 8 Biggest Mistakes You Make With Bronzer
If you're religious about sunscreen and don't get as much time in the sun as you'd like, bronzer is the perfect way to get a nice sun-kissed look without a lot of effort. The only downside: It's easy to mess up. Here's how to avoid the most common bronzer mistakes, so you can get as close to that natural glow as possible.
1. Loading the brush and directly applying it.
Repeat after me: Swirl, tap, apply. If you don't tap the brush on a table or countertop first, you will probably wind up applying way too much product. If you're using a liquid or cream formula, make sure to add bronzer to your applicator in gradual amounts rather than loading it all on at once.
2. Attempting too much contouring.
Contouring is a wonderful way to enhance your bone structure by utilizing lighter and darker shades, but trying to totally change your face can look heavy and unnatural. Use bronzer to complement your face — not disguise it.
3. Picking a shimmery formula.
Shimmery bronzer gives your complexion a shiny, sparkly look. But on oily skin, it can make things look anything but natural. Same thing applies for normal skin if your start to sweat. So skip the sparkles for your face and stick to a matte formula. If you do feel the urge to add a little shimmer, use it to highlight your collarbone, shoulders, and décolletage.
4. Applying it too quickly.
Just like foundation and other base makeup, bronzer should be applied gradually, allowing you to build it up until you get a pretty, sun-kissed color. If you're too hasty with your application, you could risk getting that way-too-heavy, Real Housewives of Orange County type of look — which is probably not what you're going for. Bronzer is like perfume: You can always add later, but if you use too much, it's tough to fix without washing it all off.
5. Overly sculpting your cheekbones.
Women are often advised to suck in their cheeks, then apply a dark shade of bronzer underneath their cheekbones in order to make their bone structure "pop," but this can actually make you look gaunt and jowly. Sweep blush lightly on your cheeks, then use bronzer sparingly along the top of your cheekbones.
6. Using a shade that's too dark.
Bronzer should be no more than two shades darker than your skin tone. Anything deeper than that will make your complexion look off, not sun-kissed.
7. Applying it all over your face.
A sheer veil of bronzer applied with a big, fluffy brush can look fine if you're incredibly light-handed, but it's much safer to stick to using it on the spots that are naturally hit by the sun: the forehead, top of the nose, along the cheekbones, and jawline.
8. Using the wrong brush.
Many women choose kabuki brushes to use with their bronzer, but dense brushes can result in applying way too much product. Pick a fluffy blush brush or angled bronzer brush for a lighter application.
Have a gorgeous makeup must make a delicate bronzer, so that be a good-looking girl when dating, shopping, and hang-out, always obviously in the crowdy, be the best eye-catching one, you will appreciate today's reading, just do it.
Related products
Related Posts