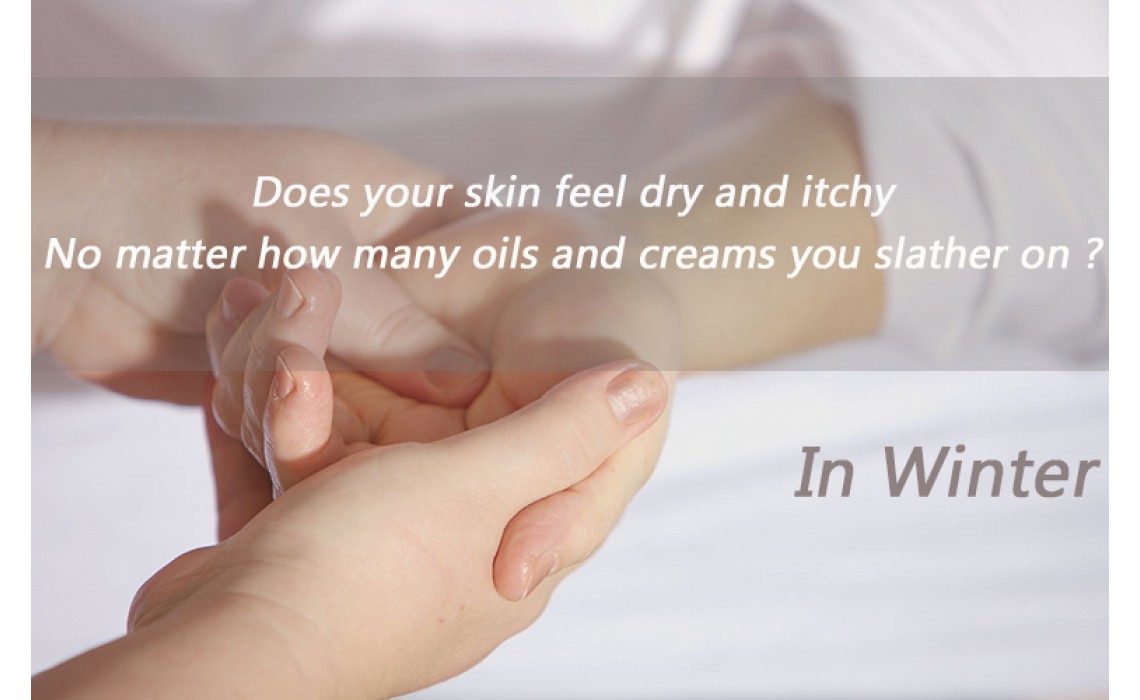 Does your skin get dry and itchy in the Winter?
Posted By: Weng Times Read: 930 Comments: 0
Does your skin get dry and itchy, no matter how many oils and creams you slather on?
Winter is definitely blowing through. Dry, flaky and sensitive skin is at it's worst during these months because of the epic lack of hydration. Dry winter air can be harsh on anyone's skin be it DRY, OILY or NORMAL. But the arrival of this season calls for some extra care for your skin. We bring some helpful skincare tips to help you keep your winter skin hydrated, soft, supple and healthy no matter what skin type! And hopefully, we'll be back to your smooth, glowing skin in no time.
No one like stretchy, cracked, flaky rough skin, so for those of you who are dealing with excessively dry skin, chill, I've got your back.
The focus of winter skin protection is moisturizing, because the winter weather is very dry, although the amount of sweat is reduced, but the speed of skin moisture loss is increased, so the skin is easy to dry and peel.
Everyday daily skin care should use moisturizing products as much as possible. It is not only facial skin, but also hand cream should be applied to the hands. Moisturizing body lotions should also be applied to the skin. If you stay in a dry room for a long time, you can Put a humidifier and the skin will be very comfortable.
And the bath should not be too hot, and don't force it. Because it is easy to damage the sebum on the surface of the skin, the skin will become drier. After washing, you can rub some body lotion or emollient oil to prevent dry skin.
In the winter, it is necessary to apply a mask to protect the skin. It is recommended to take about 3 times a week. But remember that after the application, the skin care steps cannot be lazy, do the appropriate water lock steps.
In winter, it is necessary to drink plenty of water to protect the skin. In addition to replenishing the skin from the outside, it is also important to replenish water from the inside. It is useless to replenish the water inside the body. Therefore, we should keep drinking 6-day. 8 cups of hot water.
Protecting the skin in winter needs to reduce the number of exfoliation, because the stratum corneum is the protective film of the skin, which has the effect of locking the skin moisture. This skin is more needed in the dry weather winter skin. Excessive exfoliation will make the protective film The effect is weakened.
In addition, in the autumn and winter, because the hands, head and neck are exposed, it is necessary to wear scarves, gloves and earmuffs to keep warm. Remember to apply lotion before wearing a scarf and glove earmuffs. This will reduce the degree of friction directly with the skin.
In the diet, you should eat more foods rich in vitamin A, because the skin will become dry when the body is deficient in vitamin A. It is best to drink an old soup in a week, and recommend soups such as pork feet soup and red dates. Just like everybody else in the beauty industry, I am convinced that what we feed our body, has a huge impact on our skin. So, if you're looking for that natural glow, hunt down superfoods like avocados, walnuts, dark chocolate that are rich in antioxidants and omega 3s, and make it part of your diet, your skin will thank you.
The last is the topic of old-fashioned talk, pay attention to rest in every season, and adequate sleep is the best skin care product. If you often sleep at night, lack of sleep, your body will be too tired to directly affect the skin, the skin will have various skin problems, such as acne, relaxation, etc., so ensure enough sleep every day, let the body and skin get enough rest.
It's important to pay attention to what your skin is trying to tell you, so make a few adjustments to your skincare routine and enjoy a happy winter!
Contact us:
—–Email: [email protected]
—–Pinterest: https://www.pinterest.com/tomchen8339/
—–Facebook: https://www.facebook.com/Glamfields/
—–Twitter: https://twitter.com/Glamfieldsblog
—–Instagram: https://www.instagram.com/glamfields/
—–Blog: https://glamfields.blog/
Related products
Related Posts